Inala - A Zulu Ballet
Choreography by Mark Baldwin, music by Ladysmith Black Mambazo and Ella Spira
Produced by Ambassador Theatre Group and Sisters Grimm (Pietra Mello-Pitman & Ella Spira)
Sadler's Wells Theatre
–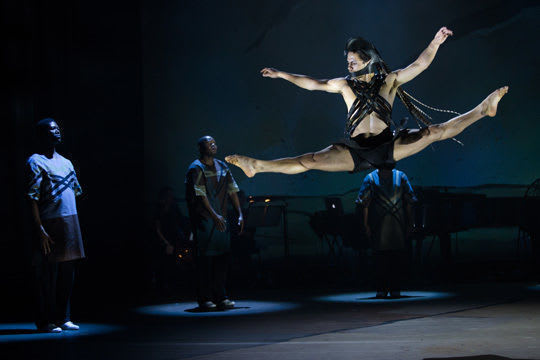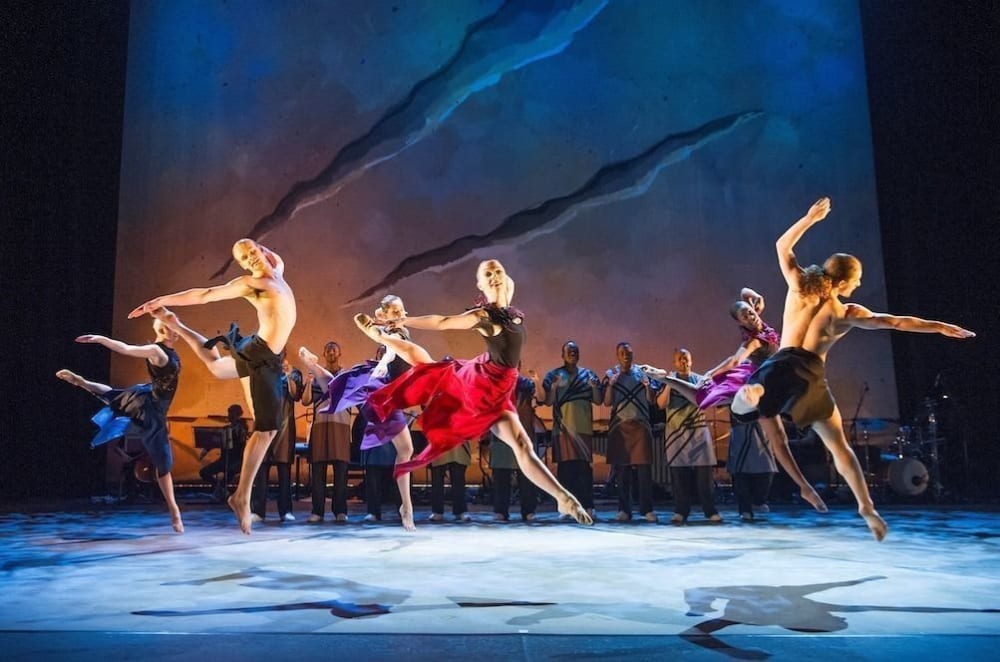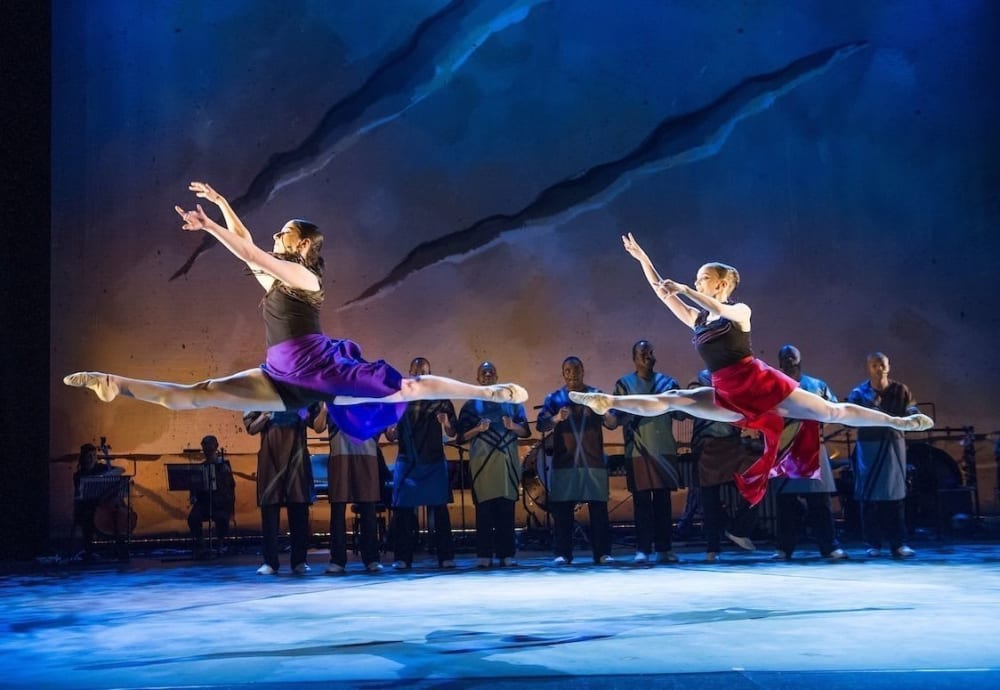 Inala is a theatrically vibrant amalgamation of African music in the Zulu a capella singing styles of mbube (lion) and traditional isicathamiya (tread gently) with contemporary dance. It unites Ladysmith Black Mambazo with choreographer Mark Baldwin and his dancers and adds instrumental support in a score created by Joseph Shabalala, his singers and London-based Ella Spira.
The Zulu title Inala can be translated as "goodwill in abundance" and you could not ask for a happier collaboration. It is now over half a century since Joseph Shabalala reformed his family based group of singers Ezimnyama (The Black Ones) to recreate the harmonies he heard in a dream. As Ladysmith Black Mambazo they became the most popular singing group in South Africa and their collaboration with Paul Simon on the album Graceland made them world famous.
The songs are, of course, in Zulu and there are no surtitles—just the wonderful sound. Their listing in the programme makes them appear to all have very human stories round love, longing and heartbreak, work, problems and celebration. They may perhaps form a kind of narrative but the dance doesn't set out to directly illustrate them except in some of the actions of the singers themselves as when a cow being milked is suggested.
Baldwin's choreography draws its inspiration rather from the whole world of KwaZulu in response to the sound and the rhythms of the score. Birdcalls and animal noises infiltrate the music. Bent wrists above raised arms turn the whole company into a flock of flamingos, jetés suggest gazelles leaping, work actions of farmers and fishermen, stealthy hunters and steps from traditional dances for warriors are joined by intriguing lifts and turns and bravura display.
This is a through-composed, through-choreographed presentation, not a revue-like series of numbers, fluid flowing, its pace exciting with one dancer frequently followed by a succession of others performing a similar figure. The singers bring their own traditional dance steps and these too are incorporated.
At first, the dancers and singers are complementary elements but increasingly become one. Dancers pick up Zulu by osmosis; the singers pair off with dancers and do a quick tongue-in-cheek turn of contemporary dance.
There is no fussy scenery. Designer Temple Clark provides streaks of cloud on the back wall, barrels and boxes to give height or seats for the singers though the stage is kept largely clear as a dance space, with Ben Cracknell's lighting and projections changing mood and creating atmosphere.
Baldwin's choreographic originality is helped by Georg Meyer-Wiel's costumes. Beaked helmets and plumes of long feathers are unmistakably avian. Leather bands on bare flesh echo the stripes on singers' tunics, angle-cut skirts emphasise body form, black contrasts with flesh and a flash of red becomes pulsatingly vibrant.
This is a show with a professional polish that fits an international market but it isn't just another crowd-pleaser. It is packed with intriguing invention and is full of individuality. Each dancer, every singer contributes his or her own personality giving it a warmth that is contagious. There is an instinctive urge to get up there and join in these foot-stamping rhythms.
All dozen dancers, nine singers and five instrumentalists deliver a spirit-lifting performance that makes one want to see more.
Reviewer: Howard Loxton