Indian Blood
A.R. Gurney
Studio Arena Theatre Company
Studio Arena, Buffalo, New York
(2007)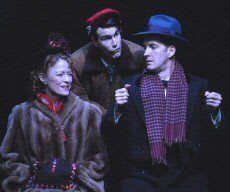 Our former Edinburgh reviewer, Rachel Lynn Brody, has moved back to the United States and is now giving us the occasional taste of US regional theatre.
Studio Arena's Christmas play, Indian Blood, is a flashback of nostalgia for those familiar with Buffalo's history. Taking place in 1946, the play is told from the point of view of high school student Eddie (Matt Steiner), and describes journeys of self-discovery made by himself and various members of his extended family.
Gurney's script, littered with references to specific locations in the city (which at times may seem forced or unnatural), begins with an obscene picture drawn by Eddie in his Latin class, where he is at odds with his cousin Lambert (Justin Fiordaliso). Eddie, like his grandfather (Ronald Wednschuh) before him, claims his feisty behavior stems from the fact that both he and Lambert have Indian blood running through their veins, from the opposing tribes of the Seneca and the Tuscarora.
Eddie's Indian blood excuse is the first of several kinds of explanations given by members of the family over the course of the play, all of which illustrate how families tend to excuse one another's behavior due to circumstances supposedly beyond their members' control.
The play is sweet and certainly a welcome holiday production, although the first act drags in places. The script makes a number of self-aware references to its staging and the necessity for the audience to use its imagination, although director Kathleen Gaffney (also the artistic director of the theatre) has perhaps pushed this a bit far in the actors' miming of using glasses and utensils in the place of real props. These decisions seem somewhat arbitrary, in reagrd to which props are mimed and which are real objects.
It's not exactly a family-friendly plot, hinging as it does on Eddie's obscene drawing, but at the same time Indian Blood makes for a pleasant, if not overly inspiring or memorable, evening out.
Reviewer: Rachel Lynn Brody