Idina Menzel in Concert

Ambassadors Theatre
(2008)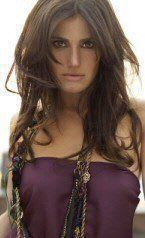 When Tony award winner Idina Menzel was last in town reprising her role of Elphaba in Wicked, fans camping outside the theatre and queues stretching around the block from stage door were a familiar sight. So it was no surprise when tickets for her one-off concert sold out in thirty minutes.
Fresh from playing Florence last week at the Royal Albert Hall's anniversary concert of Chess, Idina Menzel has also been in town to promote her new album I Stand. Without a doubt this lady can sing but the jump from musical theatre to more mainstream music is a tricky one to negotiate. Not that Idina is in anyway a "newbie" to this scene with two albums already under her belt. However, you'd be forgiven if you hadn't realised this. After making her name in hit shows such as Rent and Wicked it is undoubtedly the world of musical theatre with which she is most associated.
So the question is: can Idina Menzel's music reach an audience that is not familiar with Elphaba? If last night is anything to go by (and if the musical theatre fans give anyone else a chance to get a ticket next time) I see absolutely no reason why not.
Dressed down in skinny jeans, Idina had as much presence on stage as if she were still riding high on that broom. Retaining her powerhouse voice, but without a hint of "jazz hands", she manages to skilfully balance being big with being intimate.
You may have noticed how I've casually dropped the formality of referring to her by her full name; I'll probably be calling her "Dee" by the end. This is due to her very self-deprecating, familiar way that she has about her, making you feel as if you are friends. As she casually worked the stage, moving between standing to sitting on the stage floor, it felt very natural, rather than contrived familiarity. Idina mixed in little stories about herself or the inspiration behind certain songs, drawing you in, leaving her already dedicated audience hanging on every word. As a result of the intimate nature of this performance I actually found myself really listening to her lyrics, and of course her skill as an actress played its part with her ability to communicate the message and connect with the emotional story of her songs.
The obvious comparisons have been made between Idina and Alanis Morissette. They are both singer-song writers, they are both American and it has to be said they do look pretty similar. However Idina's music has a much rockier edge to it and while her songs tell stories, they are less folksy. Songs such as Brave (her current US single) and Better To Have Loved were particularly impressive and really allowed Idina to show off her vocal prowess.
I sense that if she had been completely flat all night, this audience would have loved her anyway. However this was not the case and this crowd obviously know when they are onto a good thing. Her song A Hero Comes Home has already been used on the soundtrack for the Hollywood blockbuster, Beowulf; exposing Idina to a wider audience and with her superb vocal talent and catchy lyrics I think it's a safe bet to say that Idina Menzel will be back in our neck of the woods fairly soon, performing to much larger audiences (providing the musical theatre fans will share her!).
Reviewer: Rachel Sheridan