In Extremis
Howard Brenton
Shakespeare's Globe
(2007)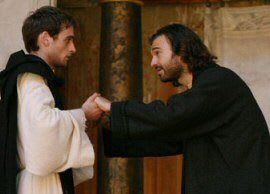 The 21st Century is awash with religious and moral crusaders. The 12th century was much the same. The difference is the degree of tolerance and the balance of power.
Peter Abelard's Historia Calamitatus and Heloise's letters to Abelard provided Brenton with fascinating material for a drama where physical and intellectual passions and bigotries cruelly castrate ideas and body.
Abelard (Oliver Boot), an outspoken radical thinker of his time, charismatic debater and passionate lover, challenges the established views within the church including those of his frustrated teacher William of Champeaux humorously performed by John Bett.
When Abelard first catches sight of Heloise (Sally Bretton), he at once declares "I must have her." She is 17 years old when they meet while he is in his mid to late thirties. They embraced each other physically and intellectually as frequently as they possibly could. They both have intellect and vision well ahead of their time. In Heloise's words "we are philosophical warriors" challenging conservative stagnated interpretations of scriptures and morals.
Heloise is an orphan, cared for by her adoring uncle Fulbert (Paul Copley) who assigns Abelard to tutor her. Not only is she well read, she reads critically: "not what read but how you read it," she says. Aristotelian laws are at the core of the arguments and debates: "if pleasure is a good thing then no pleasure is a bad thing," says Abelard. His reasoning leads to the outcry and fear that 'he will kill God'.
Abelard genuinely believes that they are running to a wonderful future. He may come across as arrogant intellectual, yet like many academics his ego is pampered by his followers and his tremendous belief in his views and place in history - "I am the leader of all this with nothing to fear" - is unquestionable, that is, until the source of his testosterone is brutally removed from his body.
The conservative thinkers who starve themselves for God's sake and offer poverty of thoughts dressed in physical deprivation are embodied in Bernard of Clarirvaux, impressively performed by Jack Laskey. He sees Abelard as a soul that lost his way.
King Louis VI, wittily performed by Colin Hurley, provides the bridge and the hope to tolerance and enlightenment. The tragedy is that, in the face of the fanatic Bernard, Abelard decides to keep silent. He sees his silence as tactical; however, this tactic enables the fundamentalist and fanatic Bernard to triumph.
In an era where political correctness seems to triumph over freedom of speech, Brenton may be trying to challenge this trend with a warning that even the King is powerless to defy fundamentalism if those who can speak out keep silent.
There were some terms plucked out of various philosophical theories which created the impression that the philosophical debates were at a more advanced intellectual level than they were in fact. Yet Brenton manages to sustain a fine balance between the intellectual fire and the physical passion of the couple.
John Dove's direction successfully teases out the humour from Brenton's script and the cast gives a sparkling performance. This is a production that should be in every theatregoer's diary.
Philip Fisher reviewed the original 2006 season production
Reviewer: Rivka Jacobson