Influence
Paul Buie
Cloud Nine
Low Lights Tavern, North Shields
–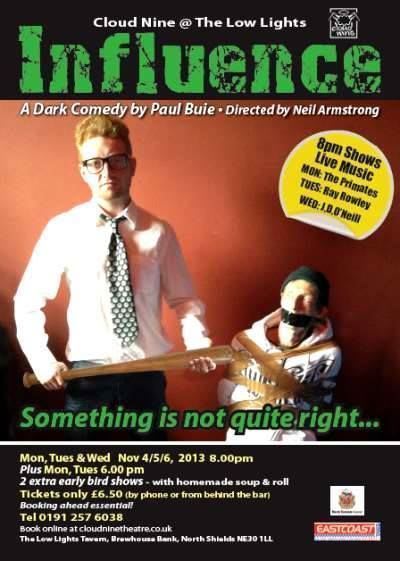 Life can be tough for reviewers! Sometimes you have to sit through some pretty awful shows and then try to find something positive to say about them – which can be very difficult! – and sometimes, as with Cloud Nine's production of Paul Buie's Influence, you want to write very enthusiastically about every aspect but you can't because to do so would be to spoil the show for anyone who is coming to see it for the first time.
So, what can I say?
It's a dark comedy with a few very clever and unexpected twists (to give them away would be a major spoiler) and it's very funny. It opens with Clark (Dylan Mortimer), a whining chav petty criminal who, armed with a baseball bat, has broken into West End Packaging's factory and been caught by owner Russell (Robbie Lee Hurst) and is now helplessly trussed up with (appropriately) parcel tape. He tries to maintain the "hard man" image he has created for himself with singular lack of success, even wetting himself with fear.
There's another character – Maxine, played by Jill Dellow – whom I can mention because she's listed in the programme but I can't tell you her function in the play. You've guessed it: it would spoil the surprise(s)!
I can also say that the cast, under the tight direction of Neil Armstrong, handle it superbly and that the audience laughed, were surprised, and laughed again. They loved it, as did I.
The Low Lights is a fantastic venue. It's tiny, seating little more than 40 people with the front row so close to the acting area (no stage) that the actors had to be very careful just moving the baseball bat around for it would be so easy to hit audience members' heads. It's really intimate theatre and this play suits it perfectly.
It's a short play, little more than 30 minutes, but is preceded, as always with Cloud Nine productions at the Low Lights, by music from a local band, a different one every night,
The run is short and the final performance is already sold out but it will visit North Shields Library on Thursday 7th November for one night only.
Reviewer: Peter Lathan