Informed Consent
Richard Brockman
Audacious Proof Theatre Company
Jermyn Street Theatre
(2008)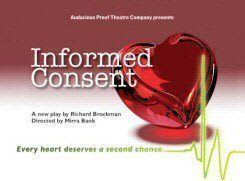 Jermyn Street Theatre is an absolute gem in the heart of the capital. If you want to experience intimate, well acted and thought-out plays, you will be well rewarded here.
On arrival the set before the audience evokes the bustling metropolis of New York, with projections of sky scrapers glittering against the back drop and Jazz music playing softly.
The Audacious Proof Theatre Company delivers a dramatic fact-based production with Informed Consent. The play has it all: hot young actors, sex, violence, death, social commentary, psychoanalysis, comedy, poignancy, a moral, a message. What more could one wish for in a night out in the West End?
Hands represent both destruction and healing throughout Informed Consent. Designer Mark Friend places a plaster cast of Michelangelo's The Hands of God and Adam on the wall centre stage, the set effectively depicting the themes of the action that unfolds before us.
The story is gripping and the audience is whisked along a journey witnessing a snapshot into what must be one of the most challenging experiences any parent could face.
Fathers and the relationships they have with their children is the predominant theme of Informed Consent. Richard Brockman confirms in his commentary on inspiration for writing, that through this play, "In essence I wanted to explore my relationship with my father".
Will Chitty delivers a sterling performance as the talented, commitment-phobic heart surgeon Steven Mandl. An expert in fixing others hearts, Mandl is simultaneously incompetent at managing the affairs of his own heart.
Brockman blames Mandl's issues loosely on his relationship with his father, an idea explored through the use of the camp and slightly stereotyped drag queen prostitute Shirley.
In addition to providing the lead character with an opportunity to reflect on his own, confused childhood Shirley also serves to lighten up the darker themes of the play and is the comic relief. The classic good looks of Charlie Holloway translate well to this fishnet tight clad character of the night.
Anton Stephans plays the dedicated and anxious father-figure Battle, whose eight year old daughter has been in hospital for most of her life.
Friend employs clever use of lighting during Battle's monologues, with him appearing to be imprisoned by bars formed of light and shadows falling over him, perhaps reflecting the claustrophobic, agonising experience of fatherhood to a desperately sick child.
Susan Bracken's character Ellen compliments Mandl in the traditional sense of male / female relationships. Ellen is the feisty nurse to Mandl''s surgeon, resisting his approaches but eventually giving in, and doesn't really possess any power or autonomy of her own. However I really like this actress and Bracken delivers a respectable performance within the confines of this character.
Brett Goldstein (who bears an uncanny resemblance to Jake Gyllenhaal circa Brokeback Mountain), plays Dom Wojick with passion and conviction.
The scenes in the operating theatre are well informed and convincing, the authenticity stemming from Richard Brockman's (himself a physician) five months in the Paediatric Intensive Care Unit (the PICU), assisting with operations and working with patients, family and medical staff.
Brockman also has extensive experience and expertise in Psychiatry, an interest which shines through the experience of the characters in Informed Consent.
Informed Consent is a gripping story that explores the raw emotion felt by those that have lost a child, those that bear the risk of losing a child, and a poignant sense of loss of innocence through lost childhoods. This is an excellent production that deserves to be a success.
Running until 25th October
Reviewer: Eva Ritchie