Inheritance
Mike Packer
Live Theatre, Newcastle
(2010)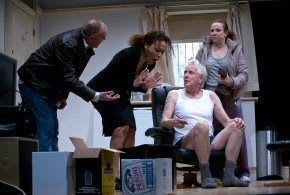 For its final main production of the year, Live Theatre has commissioned Mike Packer (Card Boys, Pony & a Monkey and The Dysfunckshonalz!) to write Inheritance, a locally-set (Low Fell, then Benwell) play which deals, over a period of two years, with the effects of the recession on a family: father Harry who lives in a council house in Low Fell, older son Terry, aged 50, and his wife Los, and younger son Frank and his wife Susan.
Terry is out of work and in a desperate financial situation - but hasn't told Los. He needs £1,500 to buy a car to start in the private hire business. Frank is an aromatherapist (with vegetarian leanings who meditates to Tibetan monks' chanting) and Susan an estate agent, running her own firm. Harry, aged 70, has bowel cancer and wants to leave his family an inheritance.
Over the next two years a complex financial situation evolves in which, during the property boom, Susan and Frank, already deeply involved in buy-to-let, help Harry to buy his council house by acting as guarantors. Of course it all goes pear-shaped thanks to the recession and Harry, now recovered from his cancer, sinks slowly into Alzheimer's with inevitable consequences.
There are fine performances from Daniel Hargreaves (Harry), Matthew Wait (Frank), Steven Hillman (Terry), Melanie Hill (Los) and Martina Laird (Susan) or about Lisa Goldman's direction, but the play relies too heavily on stereotypes: Harry, the committed socialist (grandmother died of cholera, grandfather killed at Passchendaele, uncle a member of the Jarrow Crusade, father killed at Dunkirk); Terry the aggressive, feckless working-class lad with a liking for dope and cocaine, whose wife swears like a trooper; Frank and Susan, the epitome of the yuppy middle class couple with kids at private schools (£14,000 a year fees)...
The these stereotyopes are not always maintained. Frank's change from being an aromatherapist to a Police Community Support Officer seems odd, the need to earn some money notwithstanding. There are hints of something unsavoury in Terry's life (why does he pretend to Los he's in Manchester when he isn't?) but they are left just as hints. All credit, then, to the cast for managing to make the characters feel real.
It felt at times as though Packer was trying to cram as many things into the script as possible. The first half is mainly comedy and there were the obligatory Newcastle United/Mike Ashley/Kevin Keegan references and Mackem jokes, and Frank's "alternative" life style is mocked: a sludgy drink that contains, amongst other things, alfalfa and a "spoonful of spirulina"; a massive aromatherapy candle; a recording of Tibetan monks chanting; a book entitled Advice on Dying ("I know it might sound depressing but it's not"). Some gags are quite gratuitous: Harry's appearance in an awful wig during his chemotherapy in one scene, for example, seemed to have no other motivation than to raise a cheap laugh.
The second half is much more serious, focusing on the effects on the family of the recession and Harry's slide into Alzheimer's. But here again it feels as though Packer is trying to get in as many of the ingredients of the recession as possible: boom and bust, buy-to-let, negative equity, maxed-out credit cards. ridiculous over-spending (a neighbour's 21-year old daughter who's had three boob jobs), bank lending and (it's set in the North East after all) Northern Rock.
Add in the usual sibling rivalries and bullying, spoilt middle class children and a "psychopathic" (or ADHD) working class boy, conning the housing department to get a council house, as well as numerous other themes and you have a melodrama in which all the ills of 21st century society are found in the one family!
Reviewer: Peter Lathan