In Lambeth
Jack Shepherd
Love&Madness
Stephen Joseph Theatre, Scarborough, and touring
(2010)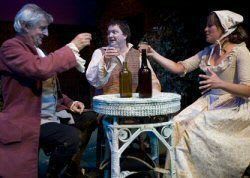 It's the end of the Eighteen Century and William Blake and his wife Kate have lit out for the country village of Lambeth, a place where man and wife can sit naked in their own garden tree without comment from the neighbours.
And this is where we find them, up a tree, in as charming a pre-set as you're likely to see outside Eden. The SJT stage is strewn with dried leaves and, dead centre, there's a small iron table, a couple of chairs, a leaf strewn bench (or 'form' as we used to call them). Blake (Luke Shaw) and Kate (Lisa Bealby) are almost in soft-focus, bathed in warm autumnal light, he noodling on a wooden pipe as he glimpses angels in flight (or on Kate's head!), she beginning to feel the evening chill. A picture of boho wedded bliss.
Enter Jack Shepherd as Tom Paine, rather elegant in tricorn hat and raspberry coat. In the distance we hear the mob. Revolution, Paine will suggest, is most honourable when conducted in daylight. And since Paine has recently returned from France, where he's been stirring the pot, and, before that, America, where he's played a significant role in the defeat of King George's army, his opinions on revolution have a degree of authority. His neck, of course, appeals to the mob, who would like to stretch it. There's a plot line here, but it's rather well hidden in the first half.
What follows is a superbly informed and informative play which explores the two men and their understanding of progress. Does revolution always tread a road to infinity, lined by gallows? Must power always corrupt? Shepherd has created a very impressive Blake whose arguments are laid out in a swirling imagery which somehow captures perfectly the work for which he would become celebrated. And, of course, Blake is apt to quote from his poems.
On this basis Blake comes out of it rather ahead of Paine and Kate who speak lines which have the ring of the Twentieth Century ('as thick as two short planks,' Kate says). It's as if the practice of giving us Shakespeare's words in khaki and camouflage has been inverted. A strange choice that I sometimes found distracting: ('Pornography?' When do we start referring to 'pornography'? In the eighteen hundreds, according to my dictionary: from the Greek for 'writing about harlots' - see, they did have a word for it!).
The action stretches into the night over a bottle of apple wine and one of brandy. The debate is fired by passion, experience and alcohol. All three actors handle their sometimes anachronistic words with relish, and whilst Shaw's look-alike, quirky to the point of comedic Blake is brilliant and memorable, Shepherd's Paine and Lisa Bealby's Kate are constantly watchable. Tom, Bill and Kate are believable and we care for them. And the production drips with charm. See it if you can.
Reviewer: Ray Brown