In My Name
Steven Hevey
Yaller Skunk Theatre
Trafalgar Studios 2
(2008)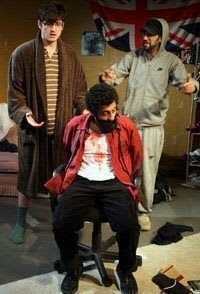 Take a significant and topical subject matter and present it in a light-hearted fashion in order to highlight how society is under-estimating the issues that surround us today. This can work, but downplay it too much and by the time you actually attack the bone of contention, you may find that you have already lost your audience and missed the point entirely.
This is exactly what In My Name attempts to do with its portrayal of the backlash against the violence that is threatening our society at the moment.
Egg (Kevin Watt) is a very confused young man trying to escape from a past that is already one step ahead of him. It all comes to a head on the day of the London bombings, July 7th, when Egg takes his frustrations out on an oblivious Grim (James Alexandrou) whose couch he has been sleeping on for the last week, and Grim's co-worker, Royal (Ray Panthaki). He projects his own demons onto those around him and issues blame on innocent people for the crimes of a minority.
As one of the Paines Plough writers, a company which has produced outstanding work such as House of Agnes, I expected something a little more sophisticated from Steven Hevey. The journey from mundane flat life to prison cell torture fails as one's interest disappears before the supposedly climactic conclusion.
The overly dim-witted layabout Grim and the gobby, jumping off the walls (from all the coke he's done - in case we didn't get it) Royal, transform into two panic stricken men with snot running down their faces. However this comes so late in the play that it is difficult to make the adjustment from sitcom to action thriller.
The play is not exactly bad, but there is nothing impressive about it either. It sort of bumbles along in a Men Behaving Badly kind of way, but its attempt to be provocative and hard hitting is where it unravels. In My Name makes an interesting point in questioning "Who am I? Who are you?" Although the not exactly subtle comparison between a game of Guess Who and society could have been given a miss.
Whilst the characters are for the most part two dimensional, the fault lies as much with the script as it does the actors. The dialogue lacks any real depth and jumps all over the place in its desperation to cover its subject matter in an innovative manner; forgetting that this is in fact an interesting subject and does not need to be clever to prove this.
Of course it is important to raise awareness and make us think twice about switching over to Friends when the news is on, but don't underestimate your audience when doing so.
Until 19th July
Reviewer: Rachel Sheridan