Innocence
Dea Loher, translated by David Tushingham
Arcola Theatre
(2010)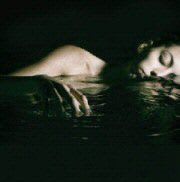 I found this an engrossing two and a half hours of theatre. German playwright Loher is not your conventional story teller but builds this play from successive episodes from lives that are only tangentially related but she and director Helena Kaut-Howson have a sure sense of what is theatrically effective. It presents an odd assortment of lives from a blind pole-dancer to a funeral parlour assistant who takes unwanted corpses home.
An altercation in the audience just before it started, which may or may not have been part of the performance, began things by creating a heightened awareness before the lights went down on the night I saw it (not press night). The first scene has two Africans on a beach: Fadoul and Elisio. Fadoul speaks to us introducing himself and his friend. As well as dialogue, Loher has her characters describing themselves and their actions in the third person or revealing their thoughts directly to the audience. The production makes it seem perfectly natural to move from one to the other and the performers make a strong connection with the audience, making it possible for the sometimes surreal elements of their lives to seem a logical part of the situation
A red-haired woman walks through the audience on to the beach. She strips off her clothes and walks into the sea. We see her pass into the water and become part of the projected image of the waves. Is she waving or drowning? One of the illegal immigrants wants to help but he can't swim and anyway, because they can't risk having to explain things to the police they watch and do nothing.
Elsewhere a woman walks into the home of a middle-aged couple and reveals herself as the mother of the man who killed their daughter. Back on the beach a blind girl comes looking for a book and an umbrella she left there. A woman who is losing her limbs to diabetes moves in with a daughter and her work-shy partner who then gets the undertaker's job. Fadoul is attracted to the blind girl and he finds a huge bundle of banknotes. Elisio carries the guilt of not helping the drowning woman. In another home a woman philosophises to the audience while her goldsmith husband refuses to be distracted from his work. On the street below the tower block where the Africans live a crowd watches another potential suicide about to jump from it.
This is a play that highlights the lack of communication between people supposedly in relationships, gives us glimpses of the effects of loneliness, raises questions of guilt and responsibility and asks, perhaps, is innocence enough? In no way a didactic piece it leaves the audience to do the thinking and entertains with intriguing characters and situations leavened by a sardonic humour. It is exceptionally well served by all its cast, but especially Nathaniel Martello-White as Fasoul, Ellen Sheean as childless Frau Habersatt and Anne Mitchell as domineering diabetic Frau Zucker, while the admirable Maggie Steed handles Ella's philosophical monologues with a skill that almost makes sense of them!
Commendations too for the actors playing corpses; for the second time in a week I have to comment on performers' still un-lifelikeness. Is someone running special acting courses in being dead?
Until 30th January 2010
Reviewer: Howard Loxton