Insane in the Brain
Street dance version of One Flew Over the Cuckoo's Nest
By Bounce Streetdance Company
Peacock Theatre, Sadler's Wells
(2008)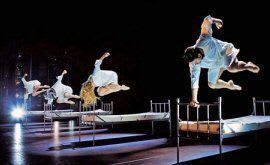 There are some performances which are so definitive that actors walk in their shadow ever after. One such performance is by Jack Nicholson as the rebel in Milos Forman's 1975 film of Ken Kesey's cult novel, One Flew Over the Cuckoo's Nest.
The role was created by Kirk Douglas on Broadway in an adaptation by Dale Wasserman and was last played in London by Christian Slater.
The action takes place in a psychiatric hospital and becomes a battle between rebel Randle Patrick McMurphy and Nurse Ratched, a symbol of institutional authority. When she realises she is fighting a losing battle she resorts to lobotomy.
Insane in the Brain is a street dance version of Kesey's paranoid, psychedelic anti-1960s establishment diatribe. Bounce - the Swedish-based street dancing company which has been going since 1977 - uses the scenario as a basis for a series of set pieces.
Hip hop's energetic, distorted, angular and head-spinning dance vocabulary suits rebellious mental patients absolutely. It is a neat (and amusing) idea that Nurse Ratched should insist the inmates should restrict themselves to classical ballet. The inmates naturally want the freedom which hip hop allows them to do their own thing.
The lead roles are diminished in this dance street version. The dancers are lively, dextrous and very energetic, but they are not actors and the opening scene with dialogue exposes them disastrously.
Fortunately, things improve instantly when the action moves to a dormitory and the cast is jumping on and off beds. The repetitive movement benefits from the lighting, which constantly alternates from light to sudden darkness.
The hospital's use of electroshock therapy is vividly re-interpreted by dancers going up and down a huge vertical wall with bungee ropes.
The filmed spoof of a typical knockabout silent movie - which has tramps invading the home of an aristocratic family - is a perfect grainy pastiche of the genre and very funny, too.
The music by Missy Elliott, Dizzie Rascal and Cypress Hill is a definite plus.
Insane in the Brain is recommended to exuberant teenagers looking for good exuberant entertainment.
Reviewer: Robert Tanitch