Inside Job
Brian Clemens
Ian Dickens Productions
Derby Theatre and touring
(2010)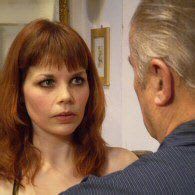 Television viewers of a certain age will probably recognise the name Brian Clemens. He created The Avengers and also wrote for classic series including Danger Man, The Professionals, The Persuaders, Bergerac and even episodes of the American programme Remington Steele.
His playwriting prowess isn't as well known, although many of his plays have recently been revived, including last year's Strictly Murder. Ian Dickens Productions was behind that offering and the Burnham-on-Sea company has turned to Clemens again for the 1988 thriller Inside Job, one of five shows the organisation is touring nationally.
The decision of the new management at the former Playhouse to take in touring productions means Inside Job kicks off a five-month stint with a three-night run in Derby. Over the past couple of years the city has been almost starved of live theatre; productions like this should have audiences returning in large numbers.
Inside Job is a three-hander set in an isolated Spanish villa about a mile from Marbella. Suzy arranges for Larry to go the villa while her husband Alex is away. She's had enough of her husband's mental as well as physical bullying and proposes that Larry should kill Alex, with the pair of them escaping to Brazil with cash and diamonds from one of Alex's dodgy deals.
Later it transpires that Alex wants Suzy murdered and he's prepared to hire Larry as a hitman.
Needless to say none of the three characters is what he or she seems on the surface. There are plots, counter-plots, bluffs and double bluffs as Clemens cleverly and intricately weaves a web of deceit, deception and dissimulation right to the very end.
A three-hander needs strong characters if it's to work and Inside Job features a trio of experienced actors who gave the impression they'd been playing the parts for weeks rather than experiencing the first night.
Chris Ellison, who over the years has played a series of villains and corrupt policemen, is as comfortable as a pair of old slippers in the role of Alex who's secretive, shifty, sly and always able to come up with a back-up plan when needed.
Nothing fazes Ellison - he's able to ad lib or carry on if a minor mishap occurs on stage which means that potentially embarrassing situations are avoided.
Stephen McGann is ideal for the role of Larry, the self-centred spiv who's perfectly at home on the Costa del Crime. With flash clothes, gold medallion and Rolex watch, he's too easily attracted to any woman who'll massage his ego and is vulnerable to anyone who'll apparently allow him to take control when schemes go wrong.
Michelle Morris as Suzy has to be flirty, beguiling, confused, treacherous and frightened. Not only is she convincing, she manages to retain a sense of mystery until all is revealed in the final scene.
Giles Watling's direction builds up the tension although some of the scene changes take too long, no matter how enjoyable it is listening to the atmospheric classical guitar of Albeniz's Asturias.
Overall, though, this is a fabulous production - a superbly written and imaginatively acted thriller.
"Inside Job" is at Derby Theatre until January 27th and then tours to Blackpool, Stevenage, Basingstoke, Skegness, Windsor, Lincoln, Worthing, Colchester, Crewe, Wolverhampton, Darlington and Swansea
Steve Burbridge reviewed this production in Darlington
Reviewer: Steve Orme