Inside Job
Brian Clemens
An Ian Dickens Production.
Yvonne Arnaud Theatre, Guildford, and touring
(2010)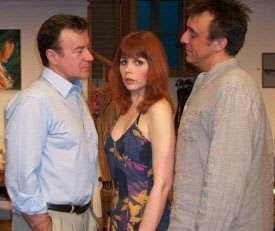 Larry thinks he is in for a night of passion when the young and beautiful Suzy invites him back to her villa while her husband is absent, but it is his criminal mind she is after, not his lustful body, and as the plot twists, turns and shifts direction it would appear that none of the characters in this three-hander are quite what they seem.
Set in Spain, about a mile from Marbella, the set designer (not credited) has created an excellent and comprehensive depiction of a Mediterranean villa with red-tiled floor, white walls, stone fireplace (surprisingly a gas fire), wicker or wrought iron furniture and the essential drinks table, and Christopher Villiers plays husband Alex as the worst type of ex-pat. Effete, slightly camp and a bit of a buffoon, he drinks too much, refers to the Spanish as "Bloody foreigners" and 'Why can't they at least learn a bit of English?" and to cap it all he even beats his wife - at least that's what she tells Larry when revealing her plan to steal money and diamonds from the safe and run away with him to Rio.
Of course in a crime thriller there has to be a murder but who will be murdered, why, and by whom? Every one seems to have a motive and any one could be a victim. This play will really keep you guessing right to the end and still be a surprise. Possible weapons proliferate. Will it be the golf club first wielded by Alex, the heaviest of the fire-irons, the gun found in the safe, the knife from the wall or the sleeping pills in the desk drawer? - even bombs make their presence felt, and we later find out why the fire is a gas one.
Writer Clemens is best known for the television cult classic The Avengers, but he has also has numerous crime thrillers to his credit, most notably Danger Man and The Professionals, with input also to Remington Steele and Bergerac, so he knows what he's doing although thinking through the story afterwards did leave me with a few questions, and Giles' Watling's direction too had me wondering. Why, for instance did Larry wait until Alex went back to his gun on the mantelpiece before creeping up to try to attack him? He had ample opportunities while they were talking beforehand.
Matt Healy, best known for his role as the bad boy Matthew King in the TV soap Emmerdale, (Villiers was Grayson Sinclair in the same series) is Larry, or the notorious criminal Dutch Holland, and plays the role with an amused glint in his eye, with delivery and mannerisms somewhat reminiscent of the comedian Lee Mack. Although he can switch amazingly from raging anger to cold and crafty manipulation with an answer to every problem, I still felt he was lacking in the killer instinct department. Michelle Morris is a gem as the glamorous Suzy, very credibly vulnerable and frightened, yet happy to arrange a murder.
Touring since the end of May, the cast are very relaxed in their roles and the play is enjoyable, intriguing and full of surprises, yet I can't help feeling that both cast and writer are more comfortable with film and TV where changes of location and more action allow more scope. The Guildford audience however were glued to their seats and thoroughly enjoyed it - with the dénouement explaining all.
Last stop of the tour is Clwyd Theatr Cymru, Mold.
Reviewer: Sheila Connor