Insignificance
Terry Johnson
L:yceum Theatre, Sheffield
(2005)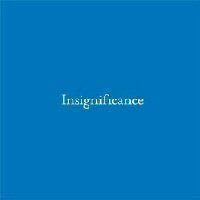 The curtain opens with an enormous rumble, repeated later in the play, on the well appointed hotel room of The Professor, (Nicholas Le Prevost) sitting working on his bed. He is confronted by a large obese angry Senator (Gerard Horan) who bullies him to testify before the Committee on UnAmerican Activities, suggesting he has a duty to do so as he had chosen America in which to live. "Not chose America, avoided Dachau" is his sharp response.
Returning to his work on a pile of papers, he is again interrupted by a readily identifiable person, a young slight blonde in fur coat and glasses (Mary Stockley) who has escaped from the inspection of the bystanders watching her underwear as her skirt flies up in response to a current of hot air, over and over as they shoot and reshoot a film scene. The Professor, despite himself and his endeavours to leave her in peace in his bed while he sleeps in the bath, is discovered by an athletic ball player,(Patrick O'Kane) angry, restless and preoccupied with his own value as a Chewing Gum hero whose photographs adorn packs of the gum.
These four unlikely companions discuss, not all together but in various combinations as the plot adds and replaces them, the Profesor's work on matter and energy and their relationship, its value to the Communist regime, which he may (or may not) have supported, her need to express her intellectual acumen, perhaps because she is unable to fill her alternative role of having babies, even the Senator's interest in solipsism, which he explains in detail to the ball player's exasperation but not to his acceptance.
It is a moving examination of characters under stress, well played, convincingly organised and building up to a crescendo of absence - except for the rumble of the possible final moment of the exploding universe.
The characters are not named as such, and one wonders what size orange box would be needed to house the people who did not identify each of them rapidly. Then, suddenly one thinks, "All are dead. How many now living would have shared their lives, identified their ideas?" A quick indrawing of breath and a recognition that while the individuals have gone, their ideas recur, time after time, and these characters are needed to remind the current generation of theatre-goers of issues that have to be identified and discussed.
The production is directed by Samuel West who is shortly to take over as the Artistic Director of Sheffield Theatres.
At the Lyceum until 12th March, and then touring to Oxford Playhouse (15 - 19 March), Liverpool Playhouse (22 - 26 March), Yvonne Arnaud Theatre, Guildford (29 March - 2 April) and the Arts Theatre, Cambridge (5 - 9 April)
Reviewer: Philip Seager