An Inspector Calls
J B Priestley
Birnmingham Rep and touring
(2005)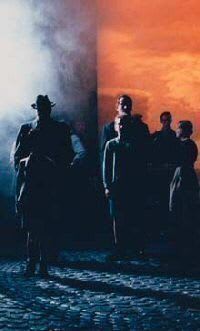 Three young children play as an air-raid siren drones excruciatingly. They become frightened as they hear bombs exploding in the distance. Stirring music builds until the curtain comes up to reveal the Birling family house, elevated and splendid despite pouring rain.
It's an impressive start to Stephen Daldry's production - but Priestley intended the play to be set in 1912, so where did the bombs come from? All we know is that a bombshell is about to drop on the Birlings and none of them will ever be the same again.
Daldry's revival of one of the most popular plays ever written is full of profundities. He looks at it in a totally fresh way, as though this were the first time he'd tackled it - even though he's done it more times than some police inspectors have made arrests.
It appears there's little that's different from the previous reincarnation of An Inspector Calls: Ian MacNeil's amazing set is still there, Rick Fisher has done another superb job on the lighting and Stephen Warbeck's music is gripping, never degenerating into incidental background sounds.
Earlier productions have been criticised for their acting but on this occasion Daldry has an excellent cast, seven actors who complement one another and take the play to a new level.
Nicholas Day is a revelation as Inspector Goole. He may perform the role differently from what you might be expecting. He never resorts to hackneyed, overstated methods to appear mysterious, instead bringing out the manipulative, forceful and impatient aspects of the character as he sets out to bring down the Birlings one by one.
Sandra Duncan reprises her role as Sybil Birling, having played it for the Rep two years ago. You don't need to be a detective to understand why. She's outstanding as the snooty, self-important, remorseless woman who can't see what she's done wrong even when it's brutally pointed out to her.
I also enjoyed David Roper's portrayal of the head of the family Arthur Birling, a bombastic businessman whose misplaced morals mean he's interested only in not being found out.
Katie McGuinness gives a lively interpretation of Sheila Birling, poignantly delivering one of the most revealing lines of the night: "We aren't the same people who sat down to dinner."
Nick Barber throws himself wholeheartedly into the role of Eric Birling whose conscience gets the better of him as only he and Sheila come out of their experience with any repentance.
Mark Healey is just as impressive as the stoical Gerald Croft while Elizabeth Ross gives Edna the maid purpose and spirit.
Daldry's production which doesn't have an interval races along at times yet it's perfectly paced, with tension often rising almost unbearably through silence.
If you've never seen An Inspector Calls before, this version will prove a remarkable experience. If you think you've had your fill of this often-performed masterpiece, go to see it anyway - this version takes the play to new heights. It's a stunning production and there are so many layers which you may never have noticed before that you'll be discussing it long after you come out of the theatre.
"An Inspector Calls" runs at the Rep until February 19th, then tours to Wimbledon, Stoke, Newcastle-upon-Tyne, Wolverhampton, Glasgow, Swansea, Southampton, Cheltenham, Coventry, Poole, Salford, Canterbury, Woking, Bath, Nottingham and Oxford.
Philip Fisher reviewed the original production when it transferred to London's Playhouse in 2001 and Kevin Catchpole reviewed this touring version at the Mayflower, Southampton, as did Pete Wood at the Everyman, Cheltenham.
Reviewer: Steve Orme