Institute

Gecko
West Yorkshire Playhouse Courtyard
–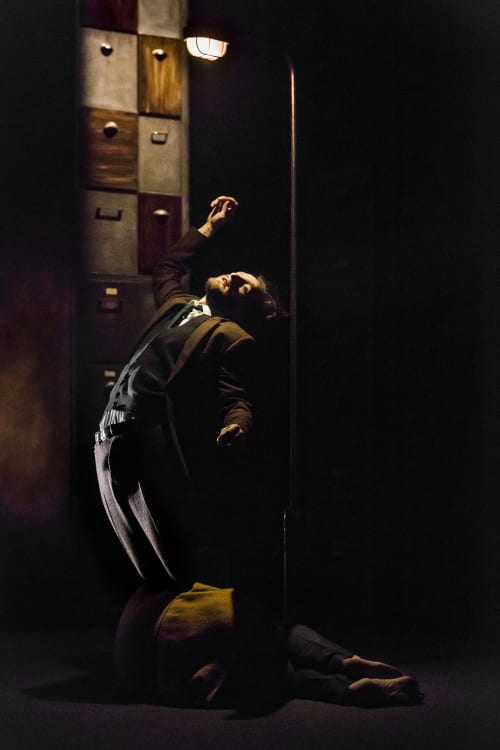 Gecko prides itself on "physical exploration and theatrical invention", and both of these are in clear evidence in its latest spectacular and moving touring piece.
The company's artistic director Amit Lahav is also the director, co-designer and one of the performers of this imaginative and intensely physical show.
This sixth Gecko creation is, like previous works, a physical dance theatre performance which is hard to categorise but which offers constant food for thought. Like in its earlier show The Overcoat, the spectator is not well-advised to seek out a rational, linear storyline.
Instead, Institute offers up sometimes comic, sometimes beautiful imagery, and strenuous but delicately interwoven choreographies, while inviting you to ruminate on a series of fascinating visual and emotional propositions.
All of these spring from notions of care, of disability and inability (whether mental or physical), of love and brotherhood (all four of the performers are male), of ambition and frustration.
It is a show which you want to shout about to all your friends, but simultaneously not to tell them anything about, given that part of the joy is piecing together your own story and imagery from the diverse and intriguing puzzle pieces offered by the performance.
The imposing, inventive set itself has echoes of the aforementioned Overcoat, with surreally towering filing cabinets providing both atmosphere and playthings for the performers. These are used with a joyous imagination and, at times, abandon.
We are introduced first to Martin (played by Lahav), who parades the space, filing away his documents but secretly yearning for his Italian lover, Margareta. Daniel (an incredibly lithe and physical dancer named Chris Evans) is a similarly likeable presence, struggling with his desk-bound job, his ambition, and his relationships.
All of the performers are close mic'ed, so at times their speech or breathing is amplified and becomes part of the soundscape or backing track to which they dance. The sound design by Nathan Johnson and music by Dave Price fluidly incorporates this and a range of musical styles.
The piece has a fairly bare text, but Evans and Lahav in particular throw out seemingly impromptu comments almost constantly in some of the dance sections—chivvying each other on, congratulating the other on a move well performed. This creates a friendly but somehow uncanny atmosphere, hovering between the performance of the dance itself and the fictional world of paperwork which they inhabit at the same time.
An ominous presence is introduced at an early stage, as from time to time a spotlight swings down to catch Lahav pawing at his (imagined?) lover, causing him to drop everything and return to 'work'. One by one we also meet a German, Karl (Ryen Perkins-Gangnes) and a Frenchman, Louis (François Testory). These seem at some times to be supportive, friendly bosses, and at others to be angry, even malicious observers administering some sort of treatment to the other pair.
There is a general sense that some sort of test scenario or observation is underway, but finally, the piece leaves you uncertain of who of the four is the carer and who is being tested.
Chris Swain's lighting and Rhys Jarman's design (both with Lahav's input) conjure this ominous, ambiguous, but human atmosphere impeccably, and combine with the physical imagery to create multiple stand-out moments.
The Frenchman, German and two Anglophone performers all speak their own language but are somehow understood by each other. This may seem like a tired physical theatre convention, but the French and German spoken is relatively simple, and their physicality and vocal tone carry more information here than the verbal content itself. It is a convention unfussily established, and the imagery and story (or stories) do not suffer for it.
The choreography, immaculately performed, contains convulsions and compulsions, hinting at mental and physical impairments of various kinds, and this is often deeply moving. The explosive twitches and gasps of Tourette's syndrome, for instance, seem clear inspiration to some of the physicality here, but then, so is the Maori haka. And certain sequences are repeated or references replayed, leading to a dark ironising of some of what we have watched.
This seemingly diverse set of influences and concepts leads to a nonetheless pleasingly coherent production overall, and, as mentioned, gives rise to stunning images—both mental and physical—which will stay with me for some time. A visceral, physical, intriguing treat.
Reviewer: Mark Smith