Instructions for Border Crossing
Daniel Bye
ARC Stockton, supported by West Yorkshire Playhouse
Barber Studio, West Yorkshire Playhouse
–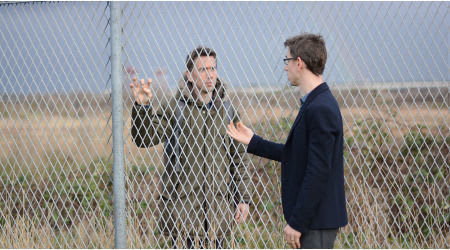 Daniel Bye's latest solo performance comes to West Yorkshire Playhouse's Furnace Festival at the start of a post-Edinburgh tour. A bold, experimental piece of storytelling which thrives on the live interaction between performer and audience members, it's a great inclusion in a festival aiming to celebrate all that's exciting and boundary-pushing in new theatre.
Boundaries are, in fact, the subject matter of the piece, in more ways than one. Bye sits behind retractable quick-release barriers of the kind found at airports and other controlled environments. Early on, he tells us he has boundary issues, sharing this with us as a way of breaking down other, subtler boundaries.
The border between him and us has already been shown up as deeply permeable, though, even before the show has "begun". Before the houselights dim, Bye introduces himself genially to the audience, requesting a partner for the game of Jenga which is prearranged on the otherwise sparsely furnished stage. From here the piece builds through encounters with a number of audience members solicited through Bye's charming, cleverly structured set of enquiries.
The dialogues he has with them—with us—circle around a number of notions. Borders are foremost. All borders are fundamentally unjust, it's proposed, because of the "inequalities they produce and intensify": inequalities exist in the very essence of the border, regardless of how it is constructed or policed.
These provocations come to us through a range of partial narratives, delivered in modes ranging from chummy pseudo-autobiographical chat to intensely performed and gripping fiction.
Bye fixates on the philosopher / artist / activist Edward Shorter, a little-known performer-protester with a knowingly all-too-mythical status. Shorter's works, Bye informs us, consist of "instructions" for dialogues and actions designed to disrupt the routines of border controls, to wreck the rigid algorithms of authority. Bye claims to be carrying out some of these instructions, though he has somewhat softened their forms out of consideration for the audience.
So we are witness to a fascinating web of fiction, interaction and confession, a piece which circles round, with performances within performances. In this way, it evokes Tim Crouch's work, most notably Adler and Gibb, which conjures the mythical / fictional performance artists of its title and (re)constructs their lives in a number of ways. Bye's work is more directly radical, though, seeking a way to mobilise audiences into questioning unthinking compliance to boundaries and controls.
The shifts of the performance's 75-minute running time work admirably to maintain intrigue and to keep the ideas moving forward. Credit here to Bye's writing, as well as varied and well-considered direction (Alex Swift) and dramaturgy (Sarah Punshon). The lighting and sound design, by Katharine Williams and Mariam Rezaei respectively, is supportive and inventive without being tricksy. Hannah Sibai's design is similarly simple yet flexible.
And Bye's affable nature shepherds us through without confrontation, making easy some brave audience interaction which might in other hands have seemed aggressive. Even this, though, is among the attitudes questioned by the piece. In a world made up of infinite invisible and intrinsic micro-aggressions which we continue simply to accept, isn't aggression justified in redressing inequalities?
All the literature around the performance has told us that "you don't have to do anything you don't want to". But despite Bye's evident care for the audience, the piece problematises even this promise, within what is a fascinating examination of authority, consent and complicity.
Reviewer: Mark Smith