International Playwriting Festival 2016
Grace Chatsuwan, Judy Upton, Arzé Khodr, Natsu Hirukawa, Doc Watson, Sam Georgiana Cascara, David Blackman, Michalis Pieris and Tony Zeane
Warehouse Theatre
Theatre in the Chamber
–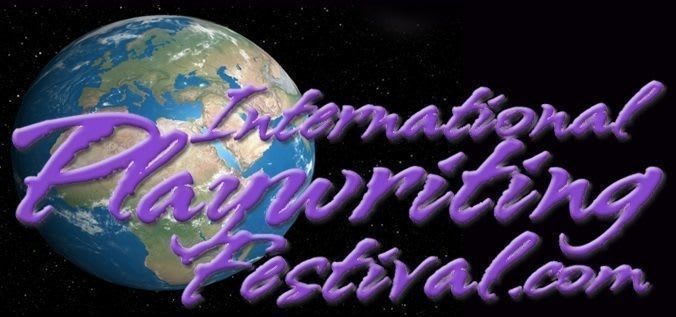 This year's International Playwriting Festival, simply staged on a platform in the debating chamber of Croydon Town Hall, celebrated the 30th birthday of a competition that has been discovering and promoting new writing since 1986.
As well as new work from overseas partners Theatro Ena in Cyprus and CSS Udine from Italy, it has in recent years selected work from the BRIT School's Strawberry Picking season as well as the judges selections from IPF entries. The first day of the Festival kicked off with one of them.
Wedlock by Grace Chatsuwan
Written, produced, directed and performed entirely by BRIT students, this looked at several different kinds of marriage: a young couple, newly married, having a baby, the teenage mother wondering how she is going to cope; a gay pair, one lipsticked, pierced and feminine, the other heavily-built and black; an unlucky Indian girl facing her husband on the first night of an unwanted marriage; and a girl explaining to her brother that she's plans to do without men and says she's married herself.
In a montage of scenes, it shows them facing the stresses of each particular situation including handling HIV, domestic violence and discovering being alone isn't the answer. It is an ambitious piece but presents situations with little time to explore them. Acting standards are uneven and for some the space a vocal challenge but director Amber Sardinha keeps it smooth running with a smooth segue between its many scenes.
Once Around the Sun by Judy Upton
This submission from a UK writer is set in a café in a railway terminus, which a year earlier was the target of a terrorist bomb. The play looks at the effect that event has had on a number of people including the manageress, who was injured and has trouble handling its anniversary, and a young man running a web site to support those affected. There are confessions of pretences and lying but, though the dialogue seems well constructed, this heavily abridged version of the script gives little sense of how effectively it would hold the interest.
Sometimes We Remember by Arzé Khodr
Submitted by a Lebanese writer and developed as part of a Royal Court Residency, this is a look at life in Beirut and the division between Christians and Druze.
Set in period of power-sharing after years of conflict, it presents a Druze woman who is having a relationship with a man living in a Christian area, her presence there questioned by local people. Though a visitor it is she whom her partner relies upon to deal with domestic issues and thus she becomes involved with a local handyman, eventually starting an affair with him.
He is a mercenary who has been fighting with the US forces in Iraq. Robin Kingsland's performance suggests an interesting character but the woman is intended to be the central figure. Not every actress can turn in an instant performance; with the minimal rehearsal possible on this occasion, the role seems too bland and shows too little to make any serious judgement of the work based on the excerpts presented.
The Japanese Doll by Natsu Hirukawa
This Japanese entry presents the story of a Japanese Crown Prince who fell in love with a commoner.
From the extracts presented, not helped by some very heavy accents, it wasn't clear whether this was based on the present Emperor's heir apparent and his wife Masako or a fictional story that uses a similar situation, but it is an intriguing conflict between love and protocol in which the Royal Household and officialdom continually try to stall the Prince's wooing of the clever young woman, who is a diplomat, and to restrain the unprecedented actions of the Princess after marriage. Benjamin Lok is splendidly stonewalling as the court official.
Cold Calling by Doc Watson
This IPF selection was not given in its entirety but in the dramatist's own abridgement. A four-hander, it presents the ongoing confrontation between a couple who are new arrivals in a desirable middle-class suburb and the established couple, leading members of the resident's association, who live opposite.
It is a fast-paced comedy with a few tricks up its sleeve in which what could easily be mere stereotypes are made flesh and blood by a sparkling script. Under Patrick Sandford's direction, it gets delightful playing from Sally Falkner, Phillip York, Eleanor Yates and Robert Neumark Jones.
Branches, Twigs and Synapses by Sam Georgiana Cascara
This is another play from the BRIT School which began the second day's programme. As much physical theatre as script, it seems at first like some kind of rite or orgy, wolf howls and writhing while children scribble with crayons on the floor before resolving into a stylized presentation of a wife and mother undergoing a breakdown, real action paralleled by the phantasmagoria in her mind.
Its creators display considerable imagination but are less successful in trying to add a serious message about the different ways love can express itself with comments such as "I wish I was my t-shirt instead of me" or the wild affirmation "I am Hope, even in a catatonic state." These youngsters should certainly by encouraged but in a programme in which selected plays were cut to 15 minutes; this stretched to nearly 40 minutes and then required 10 minutes to clear up its debris.
Greater Israel by David Blackman
An entry from Australia, of which a 15-minute extract was presented from the latter half of a two-hour play, is set in an Israel of the future with some looks back to the present.
A passionate confrontation between a new political leader, determined to give Palestinians a better deal, and first his daughter and then his reactionary nationalistic wife. It's powerful stuff, especially as Guy Holland delivers it, but does sometimes seem like a long political lecture, though that may have been due to savage cutting—the personal stories would surely counter that effect.
It is a forthright piece that on this showing makes no attempt at Shavian balance, but one needs the whole play to know what it is really trying to say.
For a Little Light by Michalis Pieris
This year's contribution from Theatro Ena saw a young Greek Cypriot writer visited by the spirit of his dead father, another writer.
It is partly a presentation of the different attitudes of those whose lives go back to before the island was divided and those who have grown up since, partly exploring generational conflict and the different artistic aspiration of a generation wanting to be free of the burden of the past. There is a surreal section concerning those properties now "owned" by others on the other side of the Greek-Turkish divide.
Imaginative in concept and, in this edited translation, elegantly written, it has its world première in Nicosia on 17 September.
Bernard Kops in conversation
The latter half of the day's programme began with the 90-year-old playwright and poet being interviewed by critic and dramatist Jeremy Kingston.
Kops, who first found fame as the writer of The Hamlet of Stepney Green, painted a vivid picture of growing up poor in Stepney. The child of Dutch Jews, his father thought he had bought tickets to America and, told he would be given a second ticket in London, guilelessly believed it; they arrived penniless.
Young Bernard was determined to escape to greener pastures; the local library was his haven, books his education. He shared a lively poem about the library and its importance and described the accidental way in which he was taken up as a writer and dramatist having never thought first of publication but only the delight he had in writing, a delight, which he still feels, and he still writes every day.
Shadowed by Tony Zeane
Another Australian entry was condensed from 90 to 25 minutes and given a very formal production by Ted Craig.
This is a play that centres on a young and talented artist, unsure of his identity because his mother will not tell him who was his father. She has her reasons for keeping it secret, though her current younger partner knows it and it is shared with the audience.
Could being told affect the son's development and behaviour? In a serious of intense duologues, the play explores love, sexuality and inheritance.
The judges for this year's Festival were veteran West End actress Jan Waters, actor Philip York, actress Anna Savva (ITV's The Durrell's), film critic and actor, George Savvides, actor and director Robin Kingsland, actress Sally Faulkner and Warehouse director Ted Craig.
Reviewer: Howard Loxton