International Playwriting Festival 2012: Second Programme

Warehouse Theatre, Croydon
From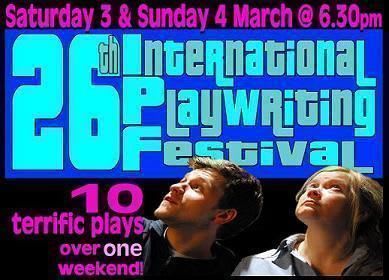 The Festival continued with a further six presentations. (See previous report for the first programme.)
My Brother's Keeper by Leila Khan
This 10-minute playlet from the Warehouse Writers Workshop is set in a secure unit of a psychiatric hospital of the prison service where a psychiatrist about to move on to another posting breaks that news to a patient who has been a killer. It seems to be questioning the effectiveness of psychiatric treatment of criminals as it shows the manipulative moves of both doctor and prisoner as power shifts from one to the other but, on this viewing, its seems a miniature melodrama rather than a serious argument.
Shaking the Tree by Vivienne Glance
This brief extract from a competition entry from Australia suggests the play contrasts capitalist economy with aboriginal ethics in a story that places a journalist among eco-protesters and builds to a dramatic forest fire but this excerpt was too short to make any serious judgement.
Mesh by Hellie Turner
Another play from Western Australia, this is set in a remote outback mining settlement where there is nothing for youngsters to do and kids are becoming lawless as their elders resort to drink and poker. When a girl is shot stealing, loyalties and moral stances topple as men try to pin the blame on others and avoid responsibility. The writing is dramatic and presents an intriguing array of characters, though too little was performed to suggest what happens in the plot.
The Old Man and the Sky by Cesare Lieve
This year's contribution from Italian partner theatre Premio Candoni (played in an English version translated and adapted by Lisa Genovese and Chris O'Shaughnessy) centres on a headmaster, just retired who is looking forward to a new kind of life when he collects his first pension payment. In the fragments performed he retells what happened at the post office and it begins to be replayed before us. He sees a tramp outside, takes him home feeds him, give him a bath and presents him with new clothes but the philosophising tramp also claims a jacket and the couple of thousand Euros of pension in its pocket and threatens violence if he is not allowed to go off with them. The headmaster rings his ex-lover, who rushes round to support him, and his daughter turns up too. He is not going to be able to shake his old life off as easily as he thought and when the tramp turns up a few days later to return the money and moves in with him one can't help wondering where this play is going and be intrigued by the characters it presents.
Corey and the Underworld by Tom Curran
Another 10 minute playlet from the Writers Workshop, this takes place underground lit only by the lamps a man and woman are wearing on their heads. They seem to have taken a wrong turning and it turns out the man is claustrophobic. A suspenseful situation but not much more, though it has potential for a play to be built around it.
Educating Bobby K by David Lambert
This extract from this British entry consisted of a meeting between Robert Kennedy and James Baldwin with historian and Presidential adviser Professor Arthur M. Schlesinger present. It is not the first play to be inspired by Bobby Kennedy inviting Baldwin to his home: Howard B. Simon's James Baldwin A Soul on Fire, staged Off-Broadway, was built around his preparations for it, but Lambert's play shows their actual confrontation, nearly wrecked by Schlesinger's security fears and establishment attitude.
I believe Kennedy actually met Baldwin on successive days (at the second the group with him included his actor brother David, Harry Belafonte, Lena Horne and playwright Lorraine Hansberry) but the scene presented seems to be the first occasion, maybe the whole play gives us both.
Of all the work shown during this year's IPF it made the strongest impression. If the rest of the play is as alive as this scene played by Roderick Burrows, Morgan Deare and Jonathan Leinmuller I hope we will be seeing it in full very soon.
Directors of the two day festival were Sally Faulkner, Andreas Araouzos, Rebecca Cotton, Kimberley Syken, Anna Savva, Jules Tipton, Lisa Genovese and Mark Norfolk and Ted Craig who produces the festival with George Savvides.
This year's Festival attracted 330 entries from 17 countries, It is great disappointment that the theatre's funding has not enabled it to give the judges' choices a full production automatically. The last to become part of their main programme was Neil Flynn's Clocked, successfully staged in 2008, but Ted Craig, the Warehouse's artistic director, helps Festival entries to gain production elsewhere and every year there have been plays that have gone on to gain premieres in full elsewhere. Last year Sally Woodcock's Fanta Orange only had to wait a few months before being staged at the Finborough Theatre and two other recent Festival plays are currently scheduled for production.
The closing date for entries for next year's Festival is 31 July 2012. For further details and entry forms go to www.warehousetheatre.co.uk/ipf13.html.
Reviewer: Howard Loxton