In the Heights
Music and Lyrics by Lin-Manuel Miranda; Book by Quiara Alegria Hudes
Richard Rodgers Theatre, New York City
(2008)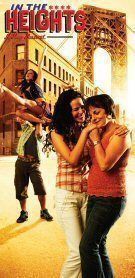 Our former Edinburgh reviewer, Rachel Lynn Brody, has moved back to the United States and is now giving us the occasional taste of US theatre.
More snapshot of a neighborhood than coherent neighborhood, In the Heights showcases the Latino culture of Washington Heights, Manhattan. Our narrator is the outgoing bodega owner Usnavi (Lin-Manuel Miranda, who also wrote the show), who pines for Vanessa (Karen Olvio) while at the same time sharing his perceptions of neighborhood living with the audience.
If one were to choose a single word to describe In the Heights, it would have to be 'uneven.' While some performers, such as Miranda, Mandy Gonzalez (Nina), and Tony Chiroldes (Piragua Guy) have voices and stage presence that fill the cavernous Richard Rodgers Theatre with raw emotion, others, such as Carlos Gomez (Kevin) and Karen Olivo (Vanessa) sang so poorly on the night in question that one wonders how they could be cast in a high school play, much less a Broadway musical. The only possible excuse for voices so incapable of filling their characters' songs is if they're afflicted with bad colds.
The set and choreography, from Anna Louizos and Andy Blankenbuehler, respectively, are enticing and bold, with dances visible through windows and railings during big dance numbers, and some real inventiveness in both how the performers interact with their surroundings and each other during pivitol scenes. Much of the audience seemed to appreciate the older generation's behaviours and mannerisms (particularly Olga Merediz as Abuela Claudia).
Massive gaps in logic – how does a young woman used to working at the neighborhood salon plan to afford her own apartment in West 4th Street? – plague some elements of the play.
From a purely technical standpoint, the quality of singing and story was not competitive with other shows in the same vein, and as someone whose life experience lies outside the scope of the community being portrayed, I didn't feel that much effort was made to draw in those interested in learning more.
Philip Fisher reviewed this production in 2009
Reviewer: Rachel Lynn Brody