Into the Woods
Music and lyrics by Stephen Sondheim, book by James Lapine
Derby Playhouse
(2006)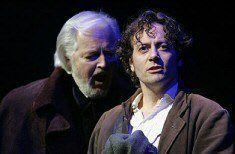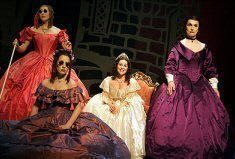 If you go down to the woods today, you're sure of a big surprise - but only if you're a newcomer to the way Derby Playhouse presents Sondheim musicals.
The theatre-going public of Derby have been split recently about the merits of some of the productions the Playhouse has offered. The most recent was Master Class, the tale of a fictional meeting between Josef Stalin and two of Russia's finest composers, Prokofiev and Shostakovich. Some people thought it was a hugely powerful drama which ought to be presented by more companies; others remarked that it was a boring evening with little entertainment value.
But when it comes to Sondheim, there are few theatres that tackle the American's complex compositions with the style and panache of Derby Playhouse.
Two years ago the theatre staged Sweeney Todd with a hugely talented cast, a terrific live band and a stunning set.
The Playhouse then presented Company, a lighter offering with clever lyrics, plenty of humour and striking performances.
Now Karen Louise Hebden who directed Company is at the helm for Into The Woods, one of Sondheim's later works and his second collaboration with James Lapine. She has assembled a highly talented cast and makes just as impressive a job of this musical as she did Company.
Into The Woods takes a collection of Grimms' fairy tales - Little Red Riding Hood, Jack and the Beanstalk, Rapunzel and Cinderella - and weaves them all together along with an original story involving the desire of a baker and his wife to begin a family. They've been cursed by a witch and can't have children unless they perform various missions to break the spell.
It sounds like a recipe for failure. But in Sondheim's hands it all fits together perfectly, with the second act exploring whether everyone really does live happily ever after. The characters learn about the problems associated with greed and selfishness and they have to work together to fight the wife of a giant who wants revenge after her husband is killed by Jack when he goes up the beanstalk.
There are some superlative performances in Into The Woods. Seasoned Broadway performer Kim Criswell is astonishing as the Witch; Ian Lavender has presence and authority as the Narrator; Glenn Carter, now becoming a Derby Playhouse regular, and Annette McLaughlin are outstanding as the baker and his wife; and Liza Pulman is delightful as Little Red Riding Hood.
But the whole cast have moments of magic, none more so than Glyn Kerslake as the Wolf whose stomach is ripped open to reveal he has eaten both Little Red Riding Hood and her grandma.
Musical director Andrew Synnott, who was brought in for Sweeney Todd, has again assembled a band of gifted musicians who produce a remarkably tight sound which complements the intricate songs for which Sondheim is noted.
As with most Sondheim musicals, you probably won't remember many of the songs when you've left the theatre. The title song is the only one which really sticks in my memory. But see this production and you'll recall another success in the Derby Playhouse Sondheim repertoire.
"Into The Woods" runs until May 20th
Reviewer: Steve Orme