Into the Woods
Stephen Sondheim and James Lapine
Ovation
Upstairs at the Gatehouse
(2008)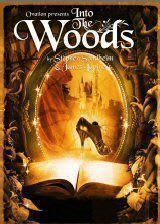 'What is it about the woods?' they ask in this captivating but difficult-to-get-right musical. Well, first there is a vitality to Sondheim's score that makes this twisted telling of a clutch of Grimm's Fairy Tales seem always original and fresh; second it requires imaginative staging and third it requires a talented cast with perfect diction so that you can understand every word of its fast and clever numbers. This production by Racky Plews ticks most of the boxes, though in the ensembles, especially at the beginning of the show, the diction needs work if the audience is going to know what's being sung. Fortunately most of the characters are clearly recognizable and if you don't already know the show you'll soon catch on.
The plot interweaves the stories of Cinderella, Jack and the Beanstalk, Red Riding Hood, Rapunzel with that of a Baker and His Wife who desperately want a child and have to beg borrow or steal Jack's white cow, Red Riding Hood's cloak and a tress of golden hair to break the spell that makes them barren. There are also the witch (herself bewitched) who undoes that spell and a couple of princes - one for Cinders, one for Rapunzel - with a tendency to philander which is blamed on an upbringing that raised them to be 'charming not sincere.' The Grimm Brothers have their dark side and, especially in the second half, in these woods it is deliciously darker. What better entertainment could you have for a grown-up Christmas outing?
In the plot things happen by 'magic that defies description,' but I can tell you that the theatrical magic here makes brilliant use of video and projection to enable Paul Nicholas to be the story-teller (though the man himself is currently playing Captain Hook in Wolverhampton), to facilitate actors appearing in two roles at once. It employs clever live-into-video transitions which are beautifully set up at the opening when, after the usual announcements and a request to switch of mobile phones, a storm begins and the manager, opening an umbrella and as he goes off, is passed by another brolly carrier coming on who walks straight into the video wood and morphs into film.
Stephie Hoyle's design, with video help from Martin Walton and Mark Smith and her scene painters has turned one side of the theatre into a tangle of forest that could hide the Sleeping Beauty as well as Alex Weatherhill the Musical Director, while the projected elements have that elementally fairy-tale quality of Crane and Rackham illustrations. Her costuming has delightful touches, such as Cinderella's tip-tilted coronet, while Rapuntzel's hair and Jack's cow are quite deliberately tacky.
There is a strong cast with Susan Kyd's Witch, who damagingly wields her stick at the Baker's groin, a defence technique that Lauren Appleby's so-bright Red Riding Hood soon picks up on, and Dominic Brewer and Rachel Bingham tuneful and well-paired as the Baker and his Wife. Daniel Summers gives Jack the right mix of dimness and courage and Emma Odell is a non-nonsense Cinderella. The Ugly Sisters are prissily played by Alexander Bradford and Shimi Goodman, who also double as the rather poncey Princes, with Goodman also a splendid sexy tap-dancing wolf. Ohn Rogerson is their mother as well as RRH's granny and the prince's steward and Alice Speedwell is Rapunzel as well as other doubling. Several of the cast are also instrumentalists and having music coming from different points in the theatre helps create a very intimate atmosphere which particularly suits this work. Cinderella in particular has a conversation with her own flute voicing her attendant birds.
Despite the intimacy of the room the cast are miked and when I saw it sound levels were occasionally up too high - not an unusual problem: are sound technicians deafer than most of us? The virtual Paul Nicholas, though beautifully timed, like all the video, sometimes suffered from a little distortion and, unlike those characters whom we also saw live who only briefly appeared projected, missed out a little on that live rapport with the audience, despite its clever simulation. This hard-working cast are giving their best with a fine combination of musical and performance skills.
Runs until 1st February 2009
Reviewer: Howard Loxton