Invincible
Torben Betts
Orange Tree Theatre
–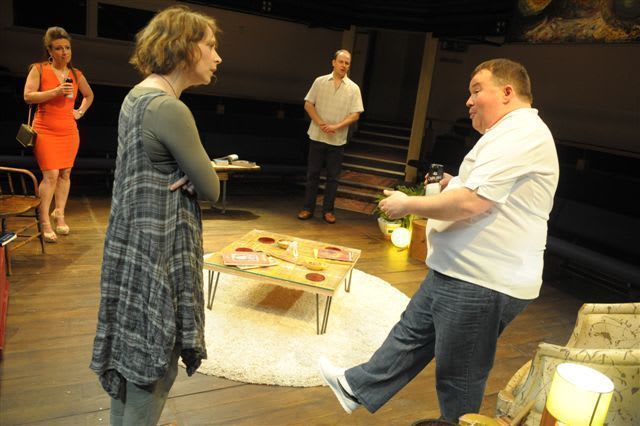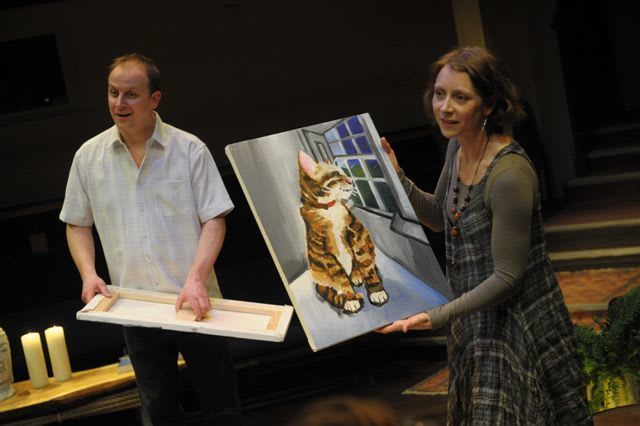 When middle-class civil servant Oliver loses his job in staff cuts brought about by the financial crisis, he and Emily, his radically left-wing partner, decide to move north where the cost of living is less astronomical. The play opens when they invite their north country neighbours round in an effort to make friends and get to know them.
Dawn and Alan next door have a cat called Vince, after HMS Invincible, the carrier on which Alan served. Emily hates cats—she doesn't want "that bird murdering creature crapping on my courgettes"—but Alan and his two daughters dote on it. That cat is crucial to the plot, its death turning a savage satire of political principles into a black farce fuelled by misunderstandings.
At first, left-wing Emily seems to be the dramatist voicing a scream of rage at Blairite Labour's abandonment of any whiff of socialism. She is no "champagne socialist" and firm against owning property, alcohol and private education and imperial military interventions but she hasn't lost her middle class belief in her own artistic and intellectual superiorities.
She would be funnier if not so extreme and weakens the attack on Thatcherite Labour by becoming a right-wing caricature of the "loony left". Laura Howard plays both her passion and the underlying sense of insecurity and loss which is not just related to political ideology but to personal tragedy and guilt. However sincere she believes herself, this is a pointed portrayal of a middle class Marxist contemptuous of working class values. What is less easy to believe is that her partner worked for the Ministry of Defence, and that despite security vetting Emily's attitudes he stayed in the job.
Oliver seems to be a fellow always to be trying to pacify his partner until their confrontations flare into real rows. Darren Strange gives him the awkwardness of a man resorting to conventional civilities when out of his comfort zone, in contrast to the social confidence of next-door neighbour Alan. Fat-bellied, lager-swigging Alan is one of those people who keep saying "I'm listening" but never stop talking. That's his way of coping and Daniel Copeland gives a splendid comic performance that never loses touch with reality.
As red-frocked Dawn, Samantha Seager at first matches stereotypical middle-class expectations of a northern working wife, but she becomes the most interesting character, revealing layers of need and feeling awakened by contact with her new neighbours and then a women shattered by personal tragedy.
This is a sitting-room comedy that crosses genres to become both hilarious and moving. Its final political comment is much more subtle than Emily's repetitious ranting with money beating principles and patriotism a panacea for pain.
Reviewer: Howard Loxton