Invisible Treasure
Dan Barnard & Rachel Briscoe
fanSHEN and You
Ovalhouse Theatre
–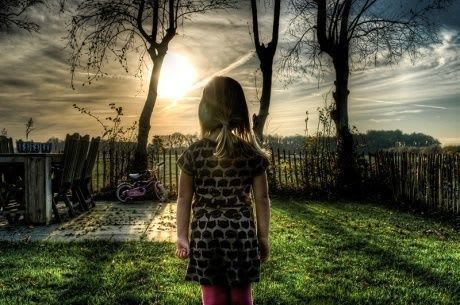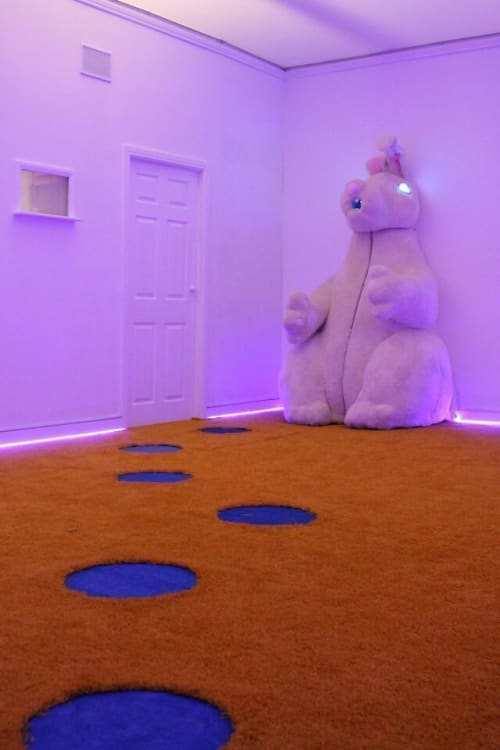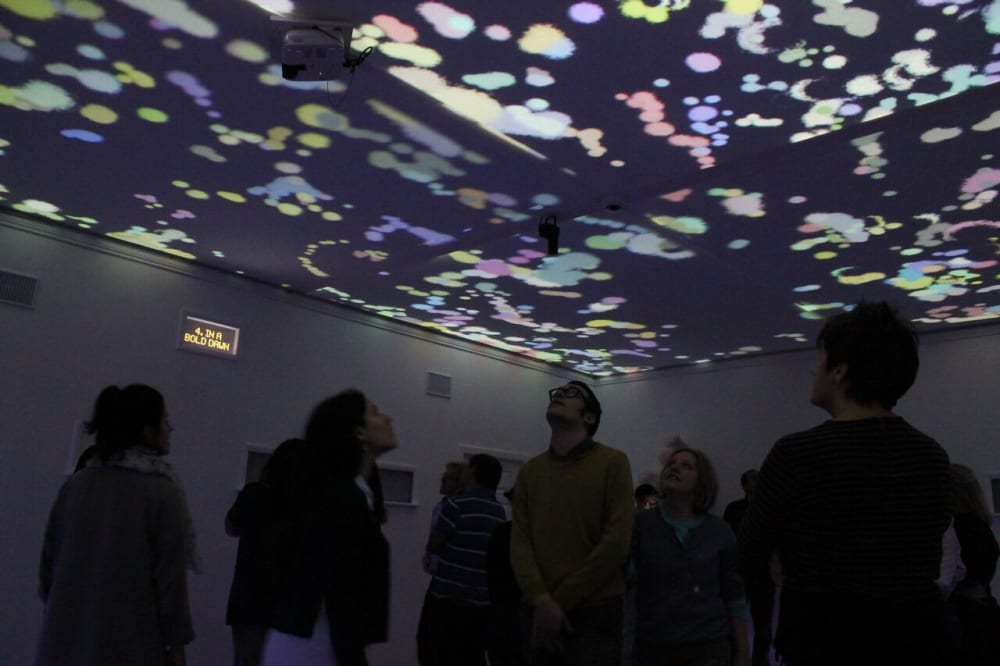 This isn't a play or a conventional piece of theatre but an experience. The promotional image suggests a journey through a magical landscape, perhaps digitally created, an immersive exlopration of imagined spaces but in reality this could not be more different.
The publicity promises no actors and no plot but an "exploration of human relationships, power structures and individual agency" and that is much more to the point. Indeed it is the individual agency of the participants on which the success of Invisible Treasure depends.
Its audience (wrong word, participants rather) are faced with a bland white room, a door closed behind them, another that they cannot open. In the walls are a series of fine-meshed grills, they could be loudspeakers, a couple are actually computer screens and there's another light panel that carries the message "welcome".
That message later changes to "welcome?" making you wonder what you have let yourself for, and then carries a series of titles issuing instructions or comments and identifying the stage reached in the experience.
Perhaps that is all I should tell you; any more inevitably will become a spoiler. Don't read further than this paragraph if you want to experience Invisible Treasure for yourself. The journey will depend on your actions and those with you. In a very simple way, though using some sophisticated technology. It will indeed make you think about how able you are to handle situations, take personal or communal action and question the way that society is developing in a world where we can communicate with the world but live in increasing isolation, but probably not until the experience is over.
There is a hint of an image projected in one corner, not clear enough to properly identify, it might be tropical vegetation but beside the far doorway there's a huge cuddly toy, a rabbit with its arms open just waiting to hug you.
What follows is a mixture of Big Brother and party games as proceeding through seven different levels instructions are given to carry out actions, though you may not be sure what they are. Some things you do have results: where you go, standing in certain places, strong movement—whether interrupting light beams or other triggering technology, finding the right answer to questions or recognizing and completing a direction gain an advance to the next stage. You even get free time to create your own game.
The structure may be that of a quest (or a simple computer game) but there is no clearly recognisable journey. There is frustration when others don't cotton on to what's needed as quickly as you do and more frustration at the lack of any apparent purpose.
Two youngsters, perhaps a six- and an eight-year-old, seemed to be enjoying themselves but for most of the time there was nothing to sustain interest beyond the big question of why. It seemed designed to encourage cohesion and co-operation among the participants but instead demonstrated just unused people now are at working in unison, though the two little lads leading a conga line proved a breakthrough.
After escape from confinement (out through the rabbit hole in a very real sense), everyone is invited to make written comments and answer a series of questions. Many of them do indeed arise from the social malfunction experienced. Margaret Thatcher famously claimed, "there is no such thing as Society". There was, and perhaps that is the Invisible Treasure and this show a demonstration of just how effectively she succeeded in destroying it.
A different, more enterprising audience might have found it more fun but the final segment suggests they might still come out with the same lesson learned.
Reviewer: Howard Loxton