Ionesco / Dinner at the Smiths
Marianne Badrichani and the Company from fragments of Eugène Ionesco's works
Latvian House
–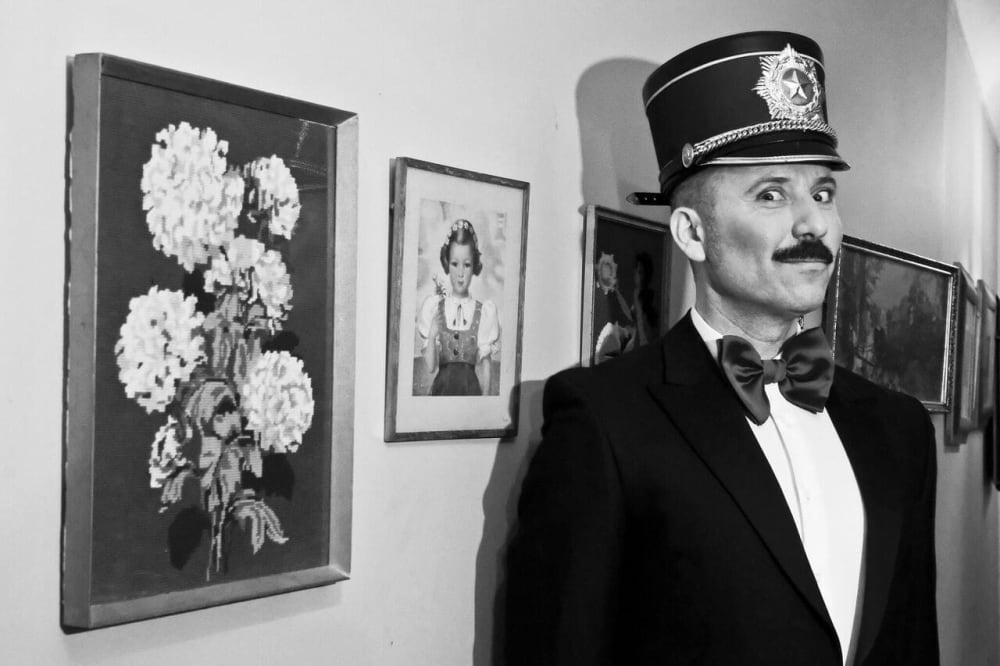 For this immersive performance, the audience become Mr and Mrs Smith's guests at a dinner party, but they are rather odd hosts.
If you arrive the slightest bit early they won't be ready. Their butler has been stationed outside the door to direct early birds to a bar in the basement: somewhere to wait if you prefer somewhere warmer than out on the doorstep. Then he fetches the evening's menus and hands out copies.
After a "Salty soup" starter, there's a choice of main course. The camp but very courteous butler invites expressions of preference from what is on offer: three of Ionesco's one-act plays. No one seems to give him an answer. That's perhaps just as well for I've an inkling that down in the kitchen the chef will have deleted two of his dishes.
Dinner guests are let in at last. Divested of cloaks, they are ushered into a high-ceilinged room of some elegance, offered wine and take seats at a long narrow table with cross tables set either end of it. There is a clock on the wall with a dial that's a mirror image of normal, its hands moving anticlockwise; when it chimes it strikes 17. This is Ionesco's world, not reality.
Once all are settled, the butler (Jorge Laguardia) and maid (Sharlit Deyzac) announce the "Salty soup" course as a set of "English rules": switching off mobile 'phones, introducing yourself to your neighbours, holding the gaze of three different people sitting opposite. Now Mr Smith is sitting at one end of the table reading a newspaper, Mrs Smith at the other darning socks.
The Smiths are the English couple who have guests to dinner in Eugène Ionescu's The Bald Soprano (La Cantatrice Chauve). That absurdist piece forms the main part of this entertainment.
The hosts conduct a banal, bickering conversation about a man called Bobby Watson, now dead, whose widow and relations are also all called Bobby Watson, and the guests are ignored. For the Smiths, they aren't there; Ionesco didn't include them in his surreal story and at this dinner they are just voyeurs and all they are offered to eat will be words.
The doorbell rings but there is no one outside it. It happens again, and again, then suddenly a couple are there, late arrivals: the Martins. They are husband and wife but don't seem to know each other though they feel they've met, the fact that they have so often been in the same place at the same time—even sleep in the same room must mean something. Is this just an Ionesco eccentricity or is he saying something about marriage?
A Fire Chief (Laguardia) with a strange speech impediment turns up to conduct an inspection. It turns out the maid is his lover.
From the opposite end of the table, Smith asks if Mr Martin is depressed. "No, bored shitless," he answers. These are risky reminders of what nonsense this is: but it is intellectual nonsense and, though 1950s absurdism has lost its edge now, it's a pleasure to see the stylish performances of David Mildon and Edith Vernes as the Martins and Lucy Russell and Sean Rees as the Smiths.
The additions the production adds to the evening add an extra level of interest. Ionesco's short play is interrupted by snatches of interview with the author himself—and Sean Rees makes an enigmatic Ionesco. His French is given an immediate translation; this bilingual show won't pose language problems.
"When you were young, did theatre thrill you?" gets an evasive answer, but asked, "what are you trying to say?" his answer is forthright: "nothing, absolutely nothing. But superior nothing!" What can a critic say save endorse that?
Under Marianne Badrichani's direction, the action keeps changing direction. You are showered with words that quite literally fall on your plate at one point, make what you will of them, and in one sequence, while wearing a blindfold, the ears are assailed by voices and intimate whispers that come from all directions. These are the genuinely immersive moments of the production, and they incidentally contain some scabrous French humour that, perhaps wisely, is not translated.
I enjoyed the performance rather more than the play. Tastes change and for me this kind of absurdism now appeals in small doses only but in Paris The Bald Soprano is still running. It opened in Paris in 1950 and since 1957 has been running at the Théâtre de la Huchette in a double bill with Ionesco's The Lesson. It holds the world record for the play that has been staged continuously in the same theatre for the longest time.
Performances of Dinner with the Smiths are on Fridays and Saturdays only at Latvian House, 72 Queensborough Terrace, London W2 3SH.
Reviewer: Howard Loxton