I Ought to Be in Pictures
Neil Simon
Library Theatre, Manchester
(2010)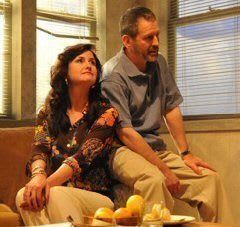 Manchester's Library Theatre opens its final year at its current home with Neil Simon's touching comedy set in the less glamorous side of the Hollywood film industry.
Herb Tucker is a Hollywood screenwriter with a bit of a writing block who is starting to get rejections from the studios that used to buy his scripts. He has a relationship with make-up artist Steffy that seems very casual considering it has been going on for two years. When his nineteen-year-old daughter Libby from the family he walked out on sixteen years ago turns up on his doorstep not even knowing what he looks like and says she wants his help to be a movie actress, he is suddenly forced to grow up and become a man with a family and responsibilities.
Simon's script is full of the great wisecracking lines that you would expect from him but they come wrapped in a perfectly-believable and moving story about an estranged father coming to terms with having a teenage daughter against the backdrop of the visible but still out-of-reach glamour and fame of 1980s Hollywood. Paul Wills has designed a large but rather dull and run-down apartment with some subtle period touches that perfectly fits the personality of its occupant.
Kirsty Osmon makes her professional debut in the role of Libby, creating a great acid-tongued teenager with a chip on her shoulder. There appear to be some hints in the dialogue that the character should be a little more effervescent and she doesn't always get the humour across, but she does a perfectly decent job. Stuart Fox is superb as Herb, the man who has spent his life running from responsibility who suddenly feels parental feelings and fears and is frightened by them. Between them, Elizabeth Carling—who would have been the young office girl in TV's Boon when the play is set—is very good as the peacemaker who stops just short of issuing an ultimatum to Herb to commit or split.
Director Paul Jepson, new to the Library, keeps a good, varied pace throughout the play; despite the sharp and witty one-liners, this is not a fast-paced comedy and space has to be given for the emotional story to develop, which it does nicely here. Occasionally some of the humour doesn't come across quite as well as it perhaps could do, but this is something that is likely to improve as the actors settle into the run in front of an audience.
Overall, this is a moving story of a family reunion with some very funny comic lines in a good production that adds up to an entertaining theatrical experience.
Playing to to 27th February
Reviewer: David Chadderton