Iphigenia
Johann Wolfgang von Goethe, translated by Meredith Oakes
Ustinov Studio, Theatre Royal Bath
(2011)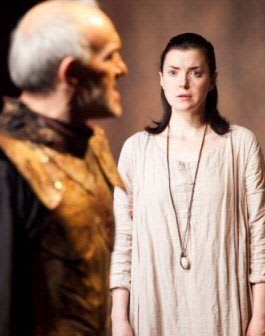 Audiences may be defying the auguries in London but these are still grim times for theatre in England. And with hard times comes a return to more conservative programming so the appointment of Lawrence Boswell as artistic director of the Ustinov Studio at the Theatre Royal Bath is doubly welcome.
Boswell, who has a strong track record as former artistic director of The Gate, London, and associate director for the RSC's Spanish season, will be presenting 18 new in-house productions over a three-year period, all of which will be new to UK audiences, in new translations commissioned by Boswell.
One of the first, Iphigenia, by Goethe, is certainly a statement of intent. Written when he was in his 20s and re-written twice, once in prose and then in verse, the drama, which clocks in at around two-and-a-three-quarter hours with interval, re-works the writing of Euripides in the then Romantic tradition.
Thus, while the world of the Gods and predetermination live on in the conviction of Orestes that he is cursed and doomed to suffer and die on Thoas with no hope of remission, his friend and fellow prisoner, Pylades, is insistent that their destiny is, at least to some extent, in their own hands.
The play then becomes a dialogue between to what extent we are free, under the rule of man and under the heavens, and what our duties to both consist of.
The play makes large demands on the five actors, who are often required to deliver lengthy monologues, and on the audience. In an early scene Iphigenia is required to explain her origins via a succession of mythological forebears. The action too is static, confined to a single room, inside the temple of Diana.
That the play proves far more gripping than the prognosis suggests is testament to the skill of the company and its director. Laura Rees as the eponymous heroine, is the still centre of the action, often intoning her lines with a faraway gaze as though back in her native Greece or among the Gods.
Adam Jackson-Smith is a an ardent, compelling Pylades, Christopher Hunter a vigorous, grizzled King of Thoas and Tom Mothersdale, as Orestes, an anguished ur-Hamlet. The acting, albeit admirably impassioned, is too strident at times for such an intimate venue so that it becomes uncomfortably shouty.
The translation, by Meredith Oakes, is decent enough, largely avoiding either an extreme lyricism, which would hamper the action, and clunky updatings.
At a time when we find our lives at the mercy of forces we can neither comprehend nor control, this revival of Iphigenia seems very apposite.
Reviewer: Pete Wood