Iphigénie en Tauride
Christoph Willibald Gluck, libretto by Nicolas-Francois Guillard
Met Opera on Demand
Metropolitan Opera House, New York
From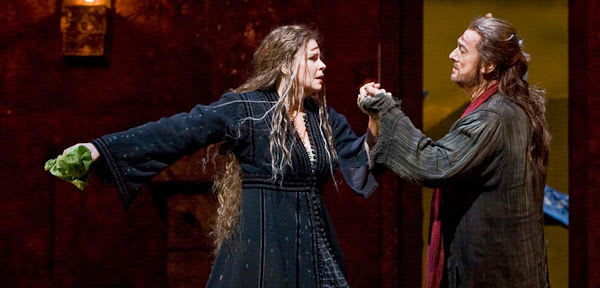 Many people think Gluck's last opera, which premièred in 1779 in Paris when he was 65 years old, is his best. The libretto by Nicolas-Francois Guillard is based on the play by Guymonde de la Touche, which premièred in 1757, which is based on Euripides's classic which premièred circa 414 BCE.
Stephen Wadsworth's production, conducted by Patrick Summers for The Metropolitan Opera House New York, dates from 2011. Susan Graham is Iphigenia. Plácido Domingo is Orestes. Paul Groves is Pylade. All three singers have a big success. The production is not so good.
What new horrors for the doomed House of Atreus can you expect? The torment is seemingly without end. Everybody is at their wit's end and wants to die. Will Iphigenia kill her own brother, Orestes? I am not surprised they don't recognise each other. They look so much older than you would expect. Matronly and grizzled, they don't look like Iphigenia and Orestes at all.
Iphigenia, who, many of us thought, had died at Aulis, is discovered 15 years later to be alive and very unhappy in Taurus. She is High Priestess in the Temple to the Goddess Diana and responsible for all human sacrifices. She doesn't enjoy the job and has dark forebodings.
In this version of the myth, Iphigenia had been snatched from the sacrificial altar by Diana just as her dad, Agamemnon, was about to sacrifice her. He needed, you will remember, a wind for his fleet of ships to set sail for Troy and her death was the price.
King Thoas (Gordon Hawkins) desperately needs to appease the gods, too, by sacrificing a stranger; and, as fate would have it, two Greek tourists, Orestes and his best mate, Pylade, have just been shipwrecked on his Crimean shore and been captured.
Orestes, you will also remember, has killed his mum but only because she had killed his dad. He is still hounded by the Furies, haunted by his crimes. Plácido Domingo is a powerful presence, vocally and physically, but Orestes is not nearly as insane here in Gluck's opera as he is in Euripides's play.
The real drama comes when Orestes and Pylade are arguing over which of them should die. Only one victim is needed for the altar. Paul Groves's Pylade makes a big impression in his arias. Susan Graham's Iphigenia is very human and doesn't want to kill either of them. In one of Gluck's finest moments, she has to beg the gods to make her cruel.
Tragedy is averted at the last minute by the intervention of Diana (dea ex machina, literally dropping in from the flies) who pardons everybody and raises restrictions on travelling abroad and allows them all to go home to Greece.
There are a number of ways of tapping into this opera and others at will. The Met Opera on Demand service offers annual ($149.99) and monthly ($14.99) subscriptions as well as a one-off payment ($3.99) for those who have limited time or only want to watch the occasional opera.
Reviewer: Robert Tanitch