Iris
Pietro Mascagni
Opera Holland Park
Holland Park
–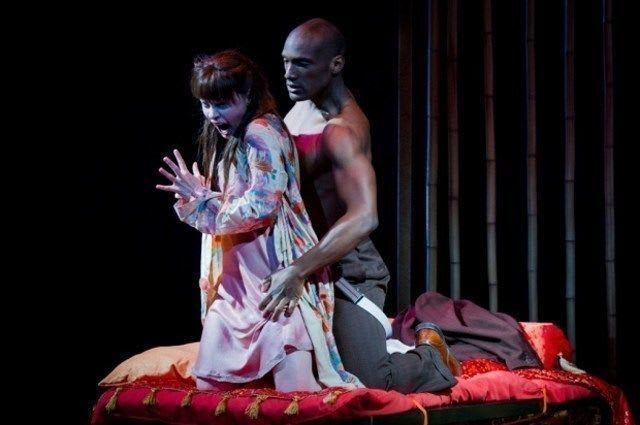 As a rarely seen show, Iris was eagerly anticipated: an opera which sees the crowds at Holland Park battling the stormy weather to come and see. Despite rolling thunder and rain lashing outside, on stage the production never felt as dramatic.
With its Japanese theme, a libretto by Luigi Illica, a sound world of harp, gongs and glockenspiel, it appears there is much in common with Puccini's Madame Butterfly. Puccini's eventual success with his operas has left Mascagni's work truly overshadowed. Luckily, Holland Park Opera has been championing this little-done opera since 1997 and, nearly twenty years on, this year a new production has been created.
In fact Mascagni's Iris is far removed from Butterfly—premièred in 1898, it displays some of his most chromatic writing and use of orchestral colours, but avoids the oriental musical quotes which litter Puccini's score.
The marquee at Opera Holland Park creates a cavernous space to fill and a difficult acoustic. The strong chorus and brilliant principles have no difficulty making an impact and the orchestra led by Stuart Stratford vividly paints the colours in Mascagni's score.
The opening "Hymn to the Sun" is a bold and exciting start to Iris. A blue-clad chorus dances in the sand-covered stage, triumphantly ending with a wall of sound accompanied by much percussion.
Sadly, after this exciting beginning, the production feels a bit lacklustre. The vast space filled so well by the musicians is underdressed. Designer Sandra Gilmour gives us three raised platforms linked by tree trunk stepping-stones and giant origami water lilies. It doesn't do enough to transport us away from the tent and building backdrop.
The women's chorus is excellent, and the washing scene is a highlight in act one.
Anna Sophie Dupreis (Iris) captures the youthful excitement of her naïve character wonderfully and her later despair. Johanne Ansell (Geisha) has a beautiful voice and performs Charlotte Edmonds's choreography with aplomb.
Less convincing is Michael Svetlov (Il Cieco—the father) who takes a while to warm into the role and then whose panic at Iris's abduction doesn't quite feel genuine.
Although a strong plot, the pacing in Mascagni's opera Iris makes Olivia Fuchs's (director) job difficult. Despite my misgivings over the production, it is still a treat to see this rarely performed opera and Opera Holland Park deserves commendation for staging it.
Reviewer: Louise Lewis