Irish Blood, English Heart
Darren Murphy
Ancient Lights Theatre Company
Trafalgar Studios
(2011)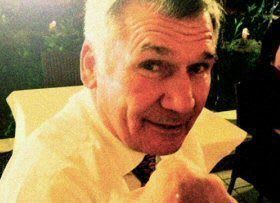 The scene is a lock-up in Southwark. just like the railway arch that houses the Union Theatre where this production by Caitriona McLaughlin was premiered earlier this year. It is where taxi-driver Sweeney kept his cab and made a personal space surrounded by his accumulated possessions. Now he is dead, suicide we later learn, and son Con is going through is things. As the title suggests, this is a play about an Irish family in England, but it was the old man and their mother who were the immigrants, the sons have grown up Londoners and the eldest, Ray, has transplanted himself to New York (though he can give a passable imitation of his father's brogue).
Con (Ian Groombridge) is going through his father's CD collection, clearly not his taste, chuucking them away. He's trying to find his father in his things, amazed by this unknown private space discovered only after his father's death. His elder brother (Howard Teale), who has just finished a signing tour for a book that he has written, has agreed to meet him three before catching a plane back to the States.
Irish Blood, English Heart, like Con, sifts through the evidence, uncovering layer upon changing layer. There is the dead father who claimed the right to be a Londoner, owning the city through his cabman's Knowledge. A street map of Southwark and Lambeth fills the back wall, divided by the red cross of St George but he kept his bog brutality along with his accent, beating up young Ray, and we learn of a man determined to be the boss in other ways. His effect on Con, who seems to be trying to celebrate him, was no less damaging.
There is the friction and the failure within Con's marriage; a young criminal whom old Sweeney took under his wing and 'educated'; the perfoming career that first brought Ray success and a change of name. There is alcoholism. There are cookery talents and dreams of running a bistro. There is the rivalry of siblings and a forefronting of the ethical dilemma when a writer takes his characters from life, and especially from those close to him. There is a passing look at the way writers are treated by the movie world. And, in addition to all these strands, this place and these characters are haunted by the memory, even the spirit, of the dead driver: his cab's taxi sign and headlamps glow when everyone is thinking of him, a touch which pushes this play into another dimension.
But this is not a 'ghost play' in any supernatural way. It is about the effect that things and people have on our lives. Old Sweeney himself had been trapped by things that eventually they all get to discover. But how much are we to believe and what is blarney?
With so much going on there are times when you feel Darren Murphy has packed too much into Irish Blood, English Heart, even for a play that last two hours plus interval, but any longeurs are soon forgotten in the intensity of the performances from Groombridge and Teale and from Carolyn Tomkinson as Con's wife, balancing her own hopes against his needs, with a creditable contribution from Oliver Gilbert as the youngster old Sweeney nurtured. Francesca Rodrigues has created a wonderfully littered set and Phil Spencer Hunter's lighting changes to match the emotional temperature so that it all pulls together into a powerful theatrical experience..
"Irish Blood, English Heart" runs at Trafalgar Studios until 12th May 2011
Reviewer: Howard Loxton