The Iron Man
Ted Hughes, adapted by Paul Sirett
Graeae Theatre Company
St Alfege Park, Greenwich, and touring
(2011)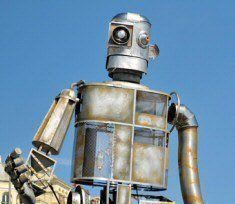 At the far end of the graveyard-turned-park of Greenwich Parish Church, where a couple of goal posts flank a patch of tarmac, they've erected some screens and low sheds of corrugated iron - maybe real, possibly painted. There's a rostrum to one side and some musicians on it, a big dummy seagull on a pole pokes up on the other and what looks very like the lower part of a mechanical leg is in the middle and some blokes in boiler suits messing around, one of them is waving to us from the top of a stepped pole. In front of them are rows of kids sitting on rugs and cloths on the tarmac or the adjoining grass, many in matching green school shirts, or wearing yellow gilets. I've obviously come to the right place for Graeae's 2011 outdoor summer show, The Iron Man, being performed by a cast that includes the deaf and disabled, complete with both hand signing and audio description. It has already gathered a giant fistful of awards at the Brighton Festival so I'm waiting to be amazed.
With a shout of "Hello Greenwich!" we are off.
At first a couple of the boiler suits are arguing as to who should tell the story but young Hogarth claims it is really his and climbs up onto a shed to tell us, but most of the time he's not alone, all the actors join in to add their bit: Stephen Collins, Alison Halstead, Milton Lopes, Amit Sharma, David Toole and Jude Mahon, talking, signing and making all the other things happen for the characters we soon see.
Soon Hogarth is going fishing and that's when he meets the Iron Man. At first we see the leg and a big hand that move around the stage and disappear. Ah, ha! That's how we do giants - bits of them, clever! But no, in comes this huge mechanical figure, a real walking, talking metal giant, all 8 metres of him. No wonder Hogarth drops his fishing rod, and all the kids have wide open eyes.
It's a simple story of an Iron Man hungry for metal. The local farmers find he has munched chunks of their tractors and machinery, but Hogarth is his friend and finds a way for him to fit into the community and then, when the world is threatened by a huge dragon-like Space Rat that wants to eat up everything on Earth (this time we do only get a head an giant wing but they are striking and effective!), it is the Iron Man who saves Earth. That battle is played out in miniature with puppets.
Puppet makers, Iron Man makers and director Jenny Sealey, designer Sofie Layton and all the design and creative team show a real understanding of how the simple and the very complex can work together to great dramatic effect, especially with an ensemble of talented performers and not least the dramatic and atmospheric music and sound of composer Lewis Gibson and his musicians Chris Price and Tom White.
"The Iron Man" plays at Greenwich until 26th June, then Bristol Harbour Festival 30th/31 July and Stockton International Riverside Festival 6th/7th August 2911

Reviewer: Howard Loxton