Iron
Rona Munro
Northumbria Live Academy
Northern Stage, Newcastle
(2007)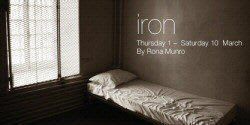 The Northumbria Live Academy is a post-graduate course for actors, jointly organised by Northumbria University and Newcastle's Live Theatre.
A new experience at the new Northern Stage, with a new production first performed at The Traverse Theatre, Edinburgh. Even the thought has a certain appeal! However Iron is performed by the Northumbria Live Academy, not the regular Ensemble that has dominated Northern Stage for a good few years now. So is this a plus? Or maybe a flaw in the programming?
Rona Munro's play about a young lady in search of her lost past from her imprisoned mother who has been behind the iron bars for fifteen years is as deep as it sounds. Deep with a plot that offers your own thoughts on why the mother, Fay, may have been locked away. It is very heavy but does not fail to deliver humour when the time is right.
Steve Gilroy's direction isn't as solid as you might expect from such an experienced director. There are problems with its pace and movement, both of which could have been pulled back slightly. His use of a young Fay seems utterly pointless to the play, adding confusion and nothing to help the story.
So is this a flaw in the programming? With this young talented cast I think not! Helen Embleton is just superb in the role of prisoner Fay. Her youth does in no way pose a problem for her to pull of this older character with many a problem. She is helped by Charlotte Binns who puts in a great performance as Fay's young well-to-do daughter Josie.
Northumbria Live Academy is a great source for young acting talent and Northern Stage is an ideal venue to showcase what is on offer. Live Theatre and Northumbria University joining forces is a big plus for performing arts in the area, a plus we all should support!
Iron is a deep piece behind iron bars, with dark humour Prisoner Cell Block H couldn't pull off. A great cast with great ability makes for a hot Iron!
Reviewer: Wayne Miller