Isadora Now: A Triple Bill

Viviana Durante Company
Barbican Centre
–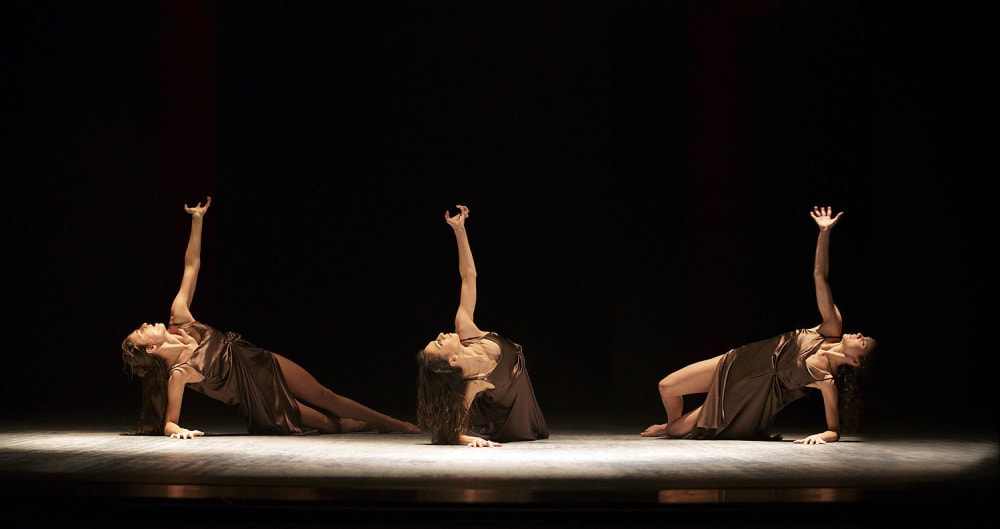 Isadora Now pays tribute to modern dance and the "freedom of women" as pioneered by Isadora Duncan who used movement as her language of liberation over a century ago.
Duncan sought out freedom in movement by tossing aside pointe shoes and corseted tutus for flowing robes and bare feet. A seductive figure indeed for former Royal Ballet Principle Viviana Durante, who directs this evening of dance, honouring both her work and ideas over a hundred years on in a well balanced and carefully thought out triple bill.
Dance of the Furies opens the evening, with movement choreographed by Duncan in 1911 that still holds power, focusing on the "inner" rather than outer physical athletics of dance. The choreography is densely packed with ritualistic movement patterns, knotted gestures with claw-like hands as five witch-like women hunch around a ceramic bowl of fire, casting spells, bound to earth with heavy, ground-bearing movements.
Danced to an intentionally vintage version of Gluck's opera Orfeo and Euridice, movement starts out slow, then unfurls into a cultish, banshee-like ritual, all ancient Grecian goddesses and female power in true superhero style, not dissimilar to the opening scene of feature film Wonder Women where Diana is prepared by the elders to fight and recognise her true strength. The performances are excellent, with shamanic-like, moodily lit energy exuding from each stamp, crouch and hand-wringing inflection.
As a serenely airy antidote, Five Brahms Waltzes in the Manner of Isadora Duncan comes next. Created by Frederick Ashton, the young choreographer was totally taken by Duncan's radical movement and was inspired to create this solo piece in response. It's a 10-minute flighty muse built on neoclassical shapes as if the dancer as an alabaster figurine comes to life in a heady mix of floating, playful lightness and sculptural angles.
Ballerina Begoña Cao (replacing Viviana Durante, injured in performance) is totally captivating as she floats like water across the stage then strides with purpose, breaking into skips, and finally runs as if in playful battle with nature. Cao takes sheer pleasurable joy in the luxuriousness of movements and responds beautifully in sync with Brahms's piano music, tinkering away live onstage by Anna Geniushene.
After the interval is Unda, a piece for six women by dancer and choreographer Joy Alpuerto Ritter to original music by Lih Qun Wong, performed live on stage on cello and computer. Created for this evening in honour of Duncan, it exudes warrior-like elemental qualities in an earthy, stamping, hair-swinging expression of movements.
The dancers move as an ensemble in a jumbling of bodies, arms, legs and breath, collecting together like waves lapping in and out against the shore, only to be broken up into small formations. There's lots of gathering and scattering in terms of movement patterns round holy water bowls and much water splashing and hair wetting. The piece is layered with imagery and symbolism that's not always clear but nonetheless energetic, strong and powerful, like Duncan herself.
Close to nature, water, the sea, Duncan saw her dancing as "recovering the natural principles of motion." Tonight ensures that such values are reflected in the historical works as well as the new piece where a spirit of optimism and freedom through self-expression lives on through simple movements. While this may no longer be avante garde in terms of concept or design, such raw energy and spirit live on stage is a joy to watch.
Reviewer: Rachel Nouchi