Island Town
Simon Longman
Paines Plough
Roundabout @ Summerhall
–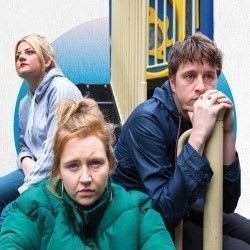 What do you do when you live in a small island town where there is nothing to do but drink cider and smoke drugs?
Simon Longman's powerful visceral play Island Town is a claustrophobic exploration of the lives of three teenagers trapped in this grim outback surrounded by the ring road with little hope of escape.
They have all left school at sixteen without qualifications. Pete (Jack Wilkinson) wants to become a dad but he needs to find a girlfriend and tries to chat up a girl in the supermarket.
He lives with his brother who bullies him and things are not helped when he nearly burns the house down whilst trying to cremate a goldfish.
For Sam (Charlotte O'Leary), she works in a local shop and has to care for her younger sister whilst her parents constantly fight and her dad is abusive towards her.
Kate (Katherine Pearce) is an angry tortured teenager who is forced to look after her dad who is dying. She is desperate to leave, beseeching the others to join her. She is frustrated, bored and angry and needs to escape.
But austerity forces Sam and Pete to stay. There isn't even a bus to take him to sign on at the job centre.
We meet them eleven years later when Kate returns; the powerful dénouement is a moving indictment on society with an unexpected twist.
The splendid cast richly deserved the audience's standing ovation.
Reviewer: Robin Strapp