It All
Cameron Cook
Assembly Rooms
–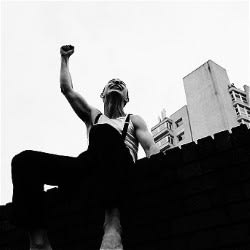 Cameron Cook gives us just a glimpse of what he is capable of in It All. He is clearly a skilled mime, in his two-tone costume, braces and black lips, reminiscent of Steven Berkoff (in look, style and ability). In his debut solo performance, Cameron showcases his excellent physical control with precision and humour.
It All is a series of unconnected vignettes that burst from the stage prosaically and with warmth, seemingly the mind-dump of a busy imagination.
In the closing moments, Cook resolves the performance as "that is it all", however I'm left wondering what that is. There is no discernible narrative nor even a broad theme or shared context between the characters we have seen, and it left me feeling somewhat short-changed.
In all, It All is a clever series of solo sketches, with musical accompaniment (from Claire Parry), that could use a dramaturg to tease out the threads and make it a more satisfying experience.
Otherwise, how can we make sense of it all?
Reviewer: Tony Trigwell-Jones