It Happened in Key West
Book, music and lyrics by Jill Santoriello, book and additional lyrics by Jason Huza, book and original concept by Jeremiah James
Jeremiah James, Rashad V Chambers, Marylou Rothfuss, Art Lab LLC, John Carroll, Jess Weiss & Cameron Smith
Charing Cross Theatre
–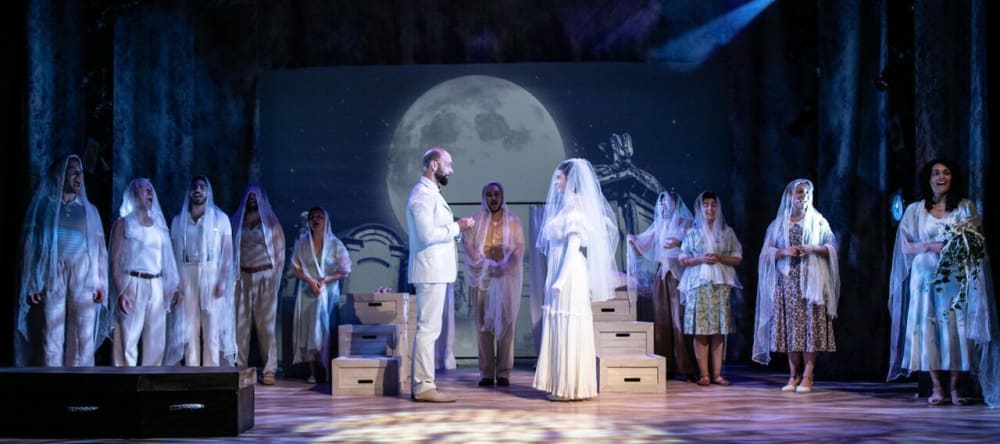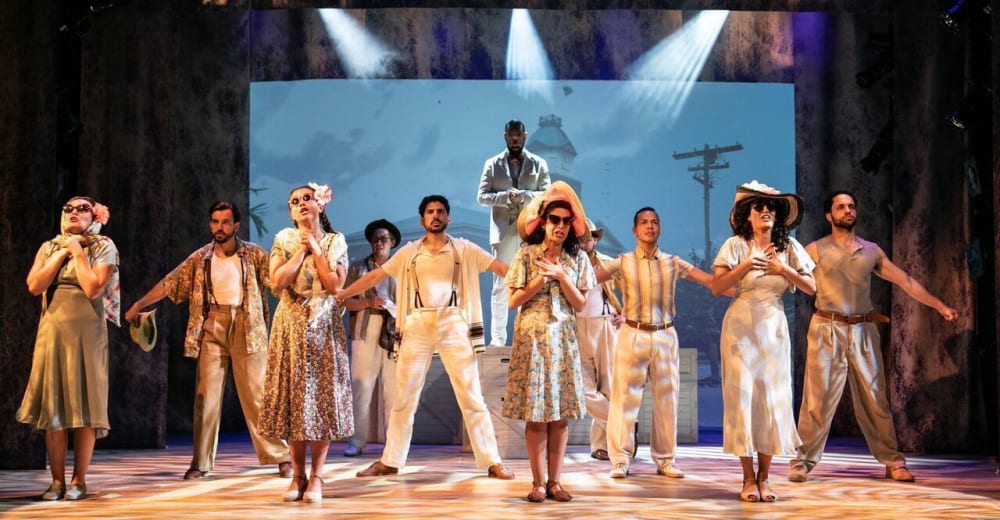 This is the story of Count Carl von Cosel, a self-styled scientist who boasted of multiple degrees from the University of Leipzig, who found himself shipwrecked in Florida, took a job as a radiologist and at last met the girl that he'd dreamed of all his life.
The trouble was she was already married and dying of tuberculosis. Besotted, he declares she is perfect and perfectly healthy until his x-rays prove otherwise. Despite lavishing expensive gifts and inventing electrolysis treatment, he can't save her but continues his attempts after her internment.
He liberates her corpse from the grave and seeks to preserve it while working on plans to resurrect her until the authorities catch up with him.
It's a weird tale but apparently a true one but the creators of this American musical, here getting its world première, haven't decided whether this is a great romantic story or a riotously funny one.
The stage is set when the audience enter with a sunny beach scene with a cheerful guitarist, one of a trio of troubadours who will be storytellers, creating a mood of happy escapism. Moving then to the prison cell in the Sheriff's office, where Count Carl is held after being arrested, things are told as back-story with a drunken prisoner setting a comic mood.
Wade McCollum plays Carl with just the right touch of eccentricity. He has a fine voice and sings with operatic intensity but the character is so full of himself and his achievement and so dismissive of others he alienates any sympathy yet his devotion to Elena is delivered with such passionate sincerity that it stifles laughter.
McCollum himself manages to be both touching and funny but the production doesn't find a way of weaving these elements together. Perhaps if Count Carl were not such an isolated figure it would be easier, for there is a context with Elena's grasping sister Nana (Sophia Lewis) and the rest of her family and others of this Cuban immigrant community.
Alyssa Martin is a charming Elena but the image of Count Carl cycling around with her dead body flopped against him riding pillion leaves one stupefied. While the score is strong on passionate romance, it doesn't find a way to let the laughs out.
If it could, this necrophiliac romance might turn into a cult hit but at the moment it is a bizarre oddity.
The production looks good with multiple projected settings, though otherwise very simple rearranging boxes to create furniture and levels, and frequently played in a line-up and straight out front. There's a romantic dance duo for Carl and Elena but little other choreography but the music, which often has a Cuban touch, is varied and lively and the cast deliver the songs with great vitality.
Reviewer: Howard Loxton