Jabala and the Jinn
Asif Khan
Belgrade Theatre Coventry in association with AIK Productions and Turtle Key Arts
Belgrade Theatre
–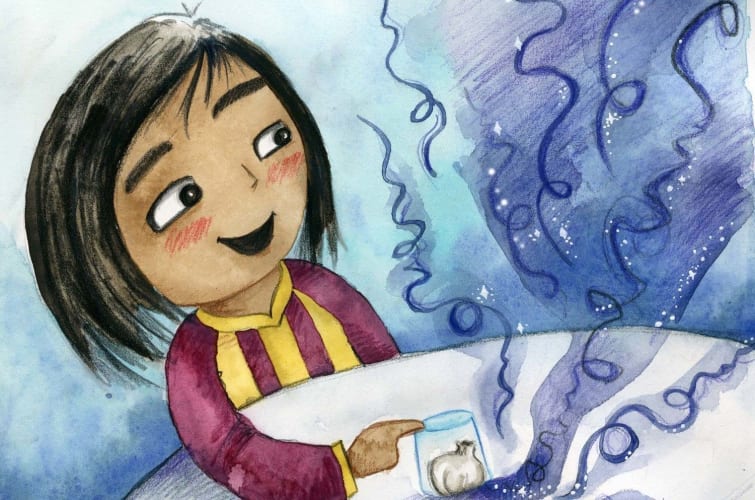 Jabala is a schoolgirl of Asian ethnicity who has grown up in Bradford. At school, she calls herself Ruth thinking that will help her fit in more. Her mother died quite recently and, though her father says they mustn't be sad, they both really miss her.
Munir is a refugee boy from Yemen who wants to make friends but it's not easy. The others distance themselves from refugee boys and at first Jabala is no different but perhaps he may be able to help her with a problem.
She has heard a strange voice in her house. At first, she thought it might be her mother, but it is a woman who speaks a strange language. She says "Salam alaikum". Is that Arabic?
Munir thinks it may be a Jinn—and he is right. What's more, he knows some magic with garlic that can summon Jinns, but this one turns out not like the Jinns in his grandmother's stories but a bored, only child Jinn called Sarah who is desperate for playmates.
Aimed at young audiences, Jabala and the Jinn touches on having to handle sadness, loneliness and rejection but it is mainly about friendship and it is lively and funny. Streamed from the stage of the Belgrade, this is theatre, not Zoom video. It's a 50-minute, non-stop performance with characters climbing acrobatically through the set and changing it between scenes. Rosamunde Hutt's direction keeps it fresh and fast-moving aided by James Hesford's music and a fine cast.
Safiyya Ingar plays the naughty Jinn (though Sarah means well). Jay Varsani is Munir, who arrived in the UK already well versed in what he calls "Shakaspear" and is a confident rapper. He appears as Jabala's dad too, though you may not realise it is the same actor. Bursting with energy is Natalie Davies as Jalaba. She gets the chance for more direct contact with the audience, but these performers are a team that work together to draw in their audience.
If you pay careful attention, you will learn what a Jinn has to collect if they want to become human, but, as for the other magic, don't risk the garlic spell at home.
Reviewer: Howard Loxton