Jabberwocky
Inspired by the Lewis Carroll poem and based on an original script by Louise Warren, original music by Hannah Marshall
Little Angel Theatre
–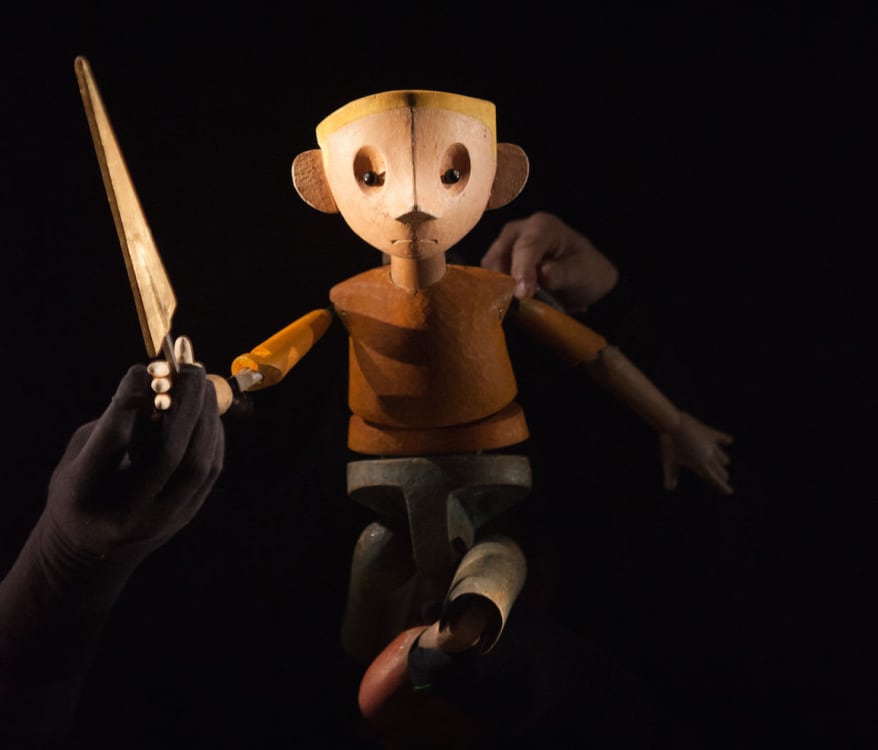 Lewis Carroll's verses about the boy who goes out trough the borogroves and in the tulgey wood tracks down and slays the Jabberwock is celebrated as "nonsense verse", but it's made-up words and rollicking rhymes tell a very standard story of a young hero going out to kill a monster.
Acted out, its strange vocabulary that word fiends so richly relish is turned by imaginative puppetry into a strange reality. "Nonsense" becomes delightful entertainment.
Waiting on the Little Angel's stage, there is a house standing against a clear blue sky, but that is not where this adventure has its beginning. It starts right at the back of the theatre when a tiny marionette, a little boy, is brought in by a black-clad puppeteer and progresses down the aisle through the audience dancing upon another puppeteer's hand.
When he reaches the front, two other puppeteers join them and the little fellow jumps from hand to hand before settling in the palm of one and being told the Jabberwocky rhyme as a bedtime story.
Attention transfers now onto the stage where a strange shape, half plane, half Christmas tree, goes roaring through the sky and a flock of danger signs, chemical, radiation and host of other warnings, circle before spinning around to spell out "BEWARE".
The house roof rises, our little feller, in a large version, climbs out, not too brave at first as he calls for mum, but when the roof clicks closed he sets out on his adventure.
Thereafter, forests and seashore slowly descend in stylised format through the brilling air and those strange creatures appear as puppet designer Peter O'Rourke has conceived them. The slithy toves, shrimp-like seahorses, gyre and gimble and a succession of big-beaked aerial creatures, pterodactyl-like, avian and insect buzzing are encountered; some seem frightening, others playful.
A long-legged green giant stalks through the wood. Is this the terrifying Jabberwock? He's pretty frightening but turns out to be friendly: it's the frumious Bandersnatch which teaches the boy to climb trees and defy gravity.
Beware the Jubjub bird, says Carroll. Is this the one that keeps on changing shape and ends up as a boat in which our lad sets sail? This boy has more adventures than the ones the poem tells of, defending himself with his vorpal sword, which seems to have bobbed up, mushroom-like, straight from the earth, and a quest continues through night and day and night and day again.
Scant of dialogue, though some of Carroll's invented words are used for their aural impact, it is driven by music: a mood-enhancing music score by Hannah Marshall and Ben Glasstone that dictates a varied pace.
This Jabberwocky is as delicious piece of invention as Carroll's, its creatures frightening and funny but not too scary for the six-year-old and upward audience at whom it is aimed.
It is an hour of delight performed with skill by puppeteers Mandy Travers, Stan Middleton, Sarah Wright and Nele De Craecker under Steve Tiplady's direction. If it is nonsense, it is the very best kind.
Playing in repertoire with their seasonal show Cindermouse.
Reviewer: Howard Loxton