Jack Absolute Flies Again
Richard Bean and Oliver Chris, based on Richard Brinsley Sheridan's The Rivals
National Theatre
National Theatre (Olivier Theatre)
–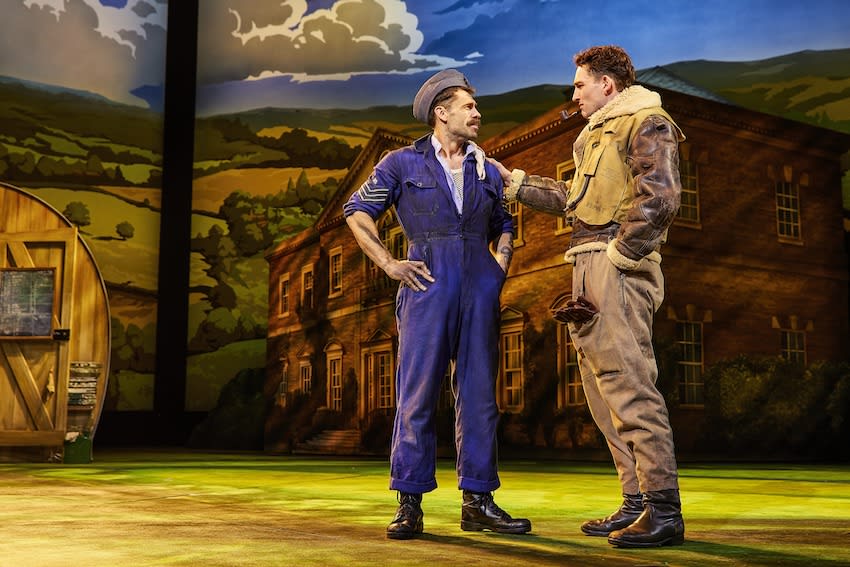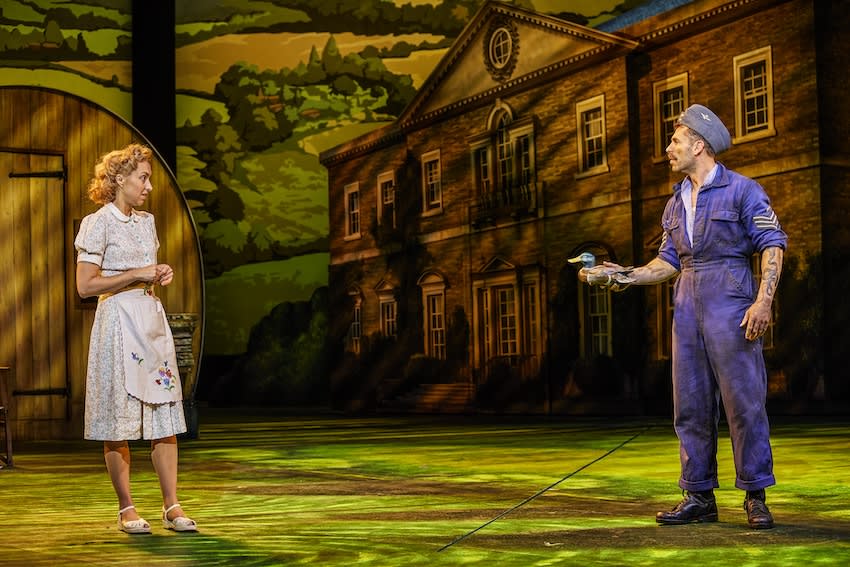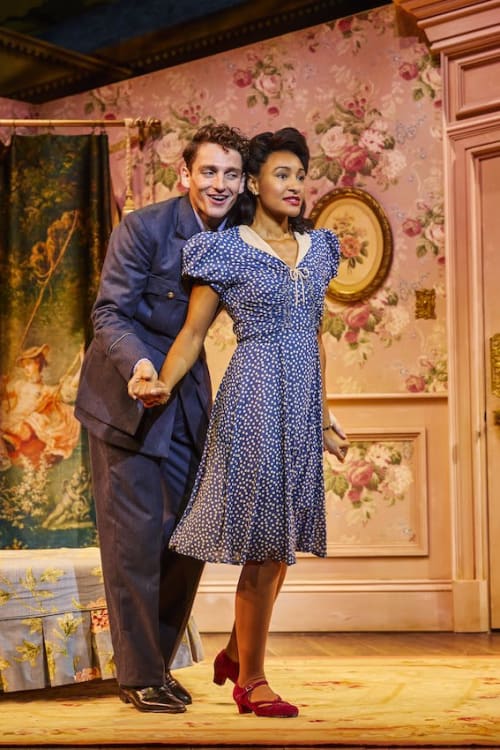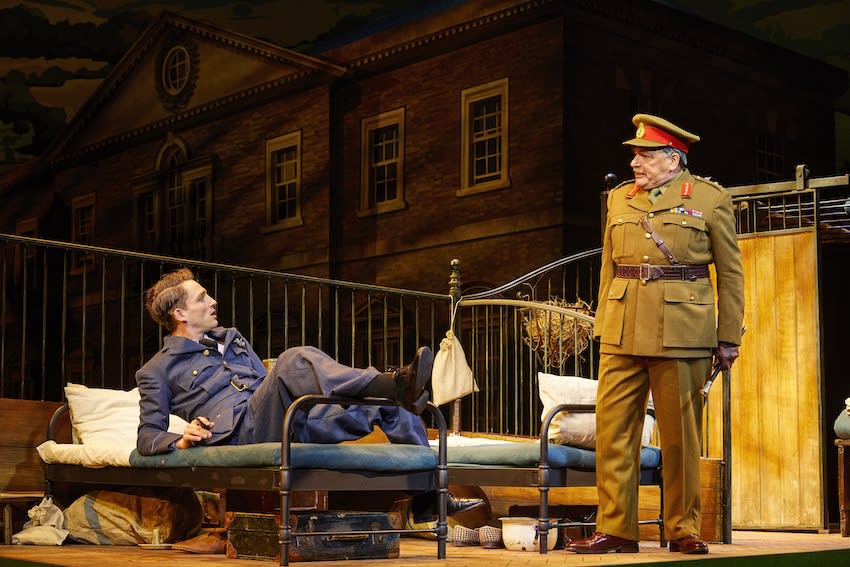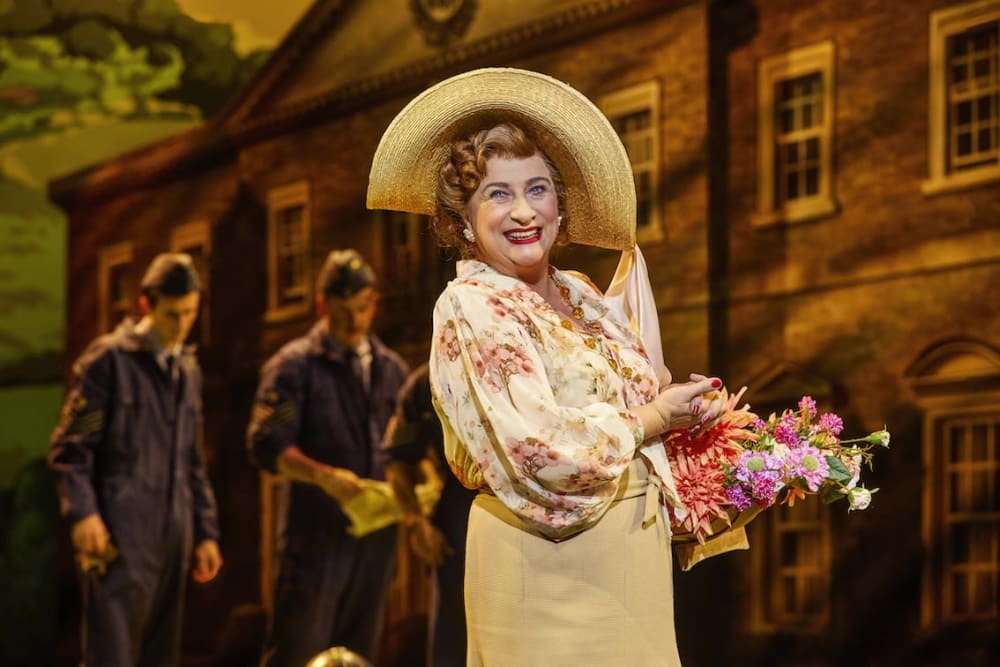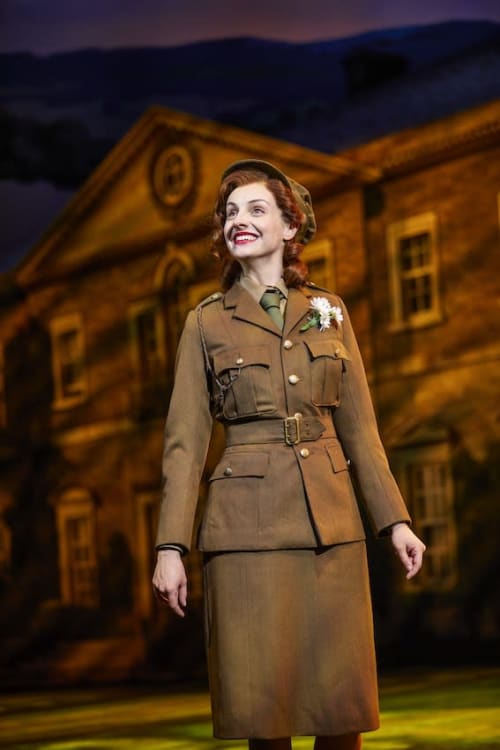 The National Theatre had a huge success with playwright Richard Bean's One Man, Two Guvnors which reworked Goldoni. Here, in collaboration with Oliver Chris (who acted a lead role in One Man's original production), he takes inspiration from Sheridan's The Rivals.
Those who know that eighteenth-century classic will recognise elements of plot and perhaps an odd line but, though it retains the names of many of Sheridan's characters, it is essentially a new play, or perhaps not so new, more mid-twentieth century, though the Lord Chamberlain's censorship would not have allowed its bawdy humour. This feels like Terence Rattigan turned into a Carry On script.
Instead of elegant Bath, the setting is the country estate of widowed Mrs Malaprop, a former risqué artiste who performed as Delia. It is 1940 and it has been requisition by the Air Ministry and turned into a Fighter Command airfield. (Why? Well, this was planned to première on the 80th anniversary of the Battle of Britain, though COVID put paid to that.)
There is a cut-out of a Hurricane figure with spinning prop and a derring-do pilot suspended above the Olivier stage; everything is set up for a Boy's Own adventure. There's a landscape like a Norman Wilkinson railway poster, a Nissen hut and painted cut-outs of a mansion and a stable block that designer Mark Thompson cleverly opens up to roll out interior rooms contracting the expanse of the Olivier to more intimate areas.
The play kicks off with Caroline Quentin introducing herself to the audience as Mrs Malaprop, the character who keeps making the malapropisms that are named after her: they come in ever-greater profusion than in Sheridan and are decidedly cruder. She is larger than life, more musical than Stanislavski, but her timing is perfect. She has the house in her hands and sets the style for what becomes increasingly indulgent.
Mrs Malaprop has a niece called Lydia (Natalie Simpson) who is in the Air Transport Auxiliary and turns up delivering a new plane. Jack Absolute (Laurie Davidson), one of the young Pilot Officers, is keen on her but his father Sir Anthony (Peter Forbes), who is Army brass, has already lined up a marriage for him and, as he says, "if you want the estate, you have to take the livestock". Jack doesn't know that it is actually the same girl.
Jack is not the only young officer who is keen on Lydia but she finds oil-smeared engineer Flight Sergeant Dudley Scunthorpe (Kelvin Fletcher) more attractive with his working-class accent, moustache and tattooed arms. Scunthorpe isn't for her, though; he's courting her maid Lucy (Kerry Howard) and things get especially complicated when Jack turns himself into a duplicate Dudley.
Lydia's admirers include Aussie Bob Acres (James Corrigan) and turbaned versifier Bikram Khattri (Akshay Sharan), but naive virgin Roy Faulkland (Jordan Metcalfe) has eyes only for Lydia's friend Julia; he goes weak at the knees at the thought of her. Pilot Officer Brian Coventry (Tim Steed), who seems to run the flight's admin, is also immune to the lady's charms; his interests lie elsewhere. There is a conscious nod here to diversity and the overseas contribution to the Battle of Britain, but, though Lydia seems to be toying with feminism, even socialist thinking, the humour is still based mostly on mid-century prejudice.
In contrast to the light-hearted plot are two dramatic presentations of a dogfight and of an attack on advancing bombers when projections turn the stage and the whole auditorium into a battle-filled sky. Jeff Sugg's spectacular videos are ambitious in their scale, but after the broad playing and farcical action that marks Emily Burns's production, the contrast seemed awkward rather than shockingly serious.
Toby Park is credited as Physical Comedy Director and Jordan Metcalfe gets one of the night's biggest laughs trying to squeeze past Sir Anthony to make an exit. Too outrageous for me, though most of the audience loved it, but I shared their delight in a flashback dance sequence of high-spirited boogie.
Jack Absolute Flies Again isn't an attempt to show the relevance of an eighteenth century play to our own time but a new confection, a crowd-pleaser with an eye on the box office. An enthusiastic first night reception suggests that it achieves that, thanks to some extrovert comedy acting and especially thanks to the pairing of Caroline Quentin and Peter Forbes.
On 6 October 2022, there'll be a broadcast of Jack Absolute Flies Again to cinemas around the world as part of NT Live.
Reviewer: Howard Loxton