Jack and the Beanstalk
Plested, Brown and Wilsher
The Corn Exchange Company
Corn Exchange Newbury
–

Listing details and ticket info...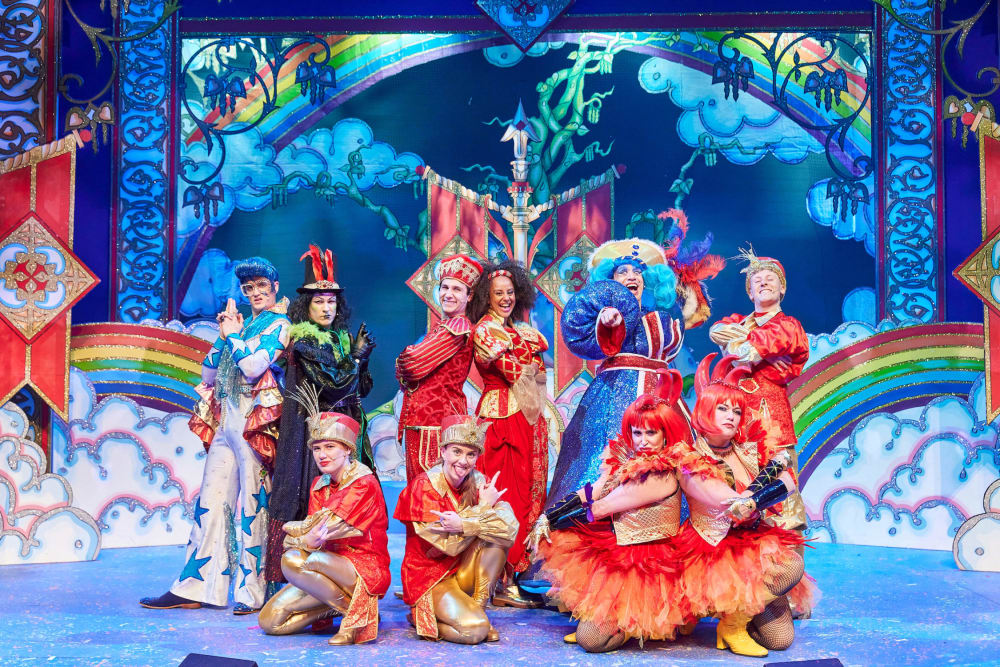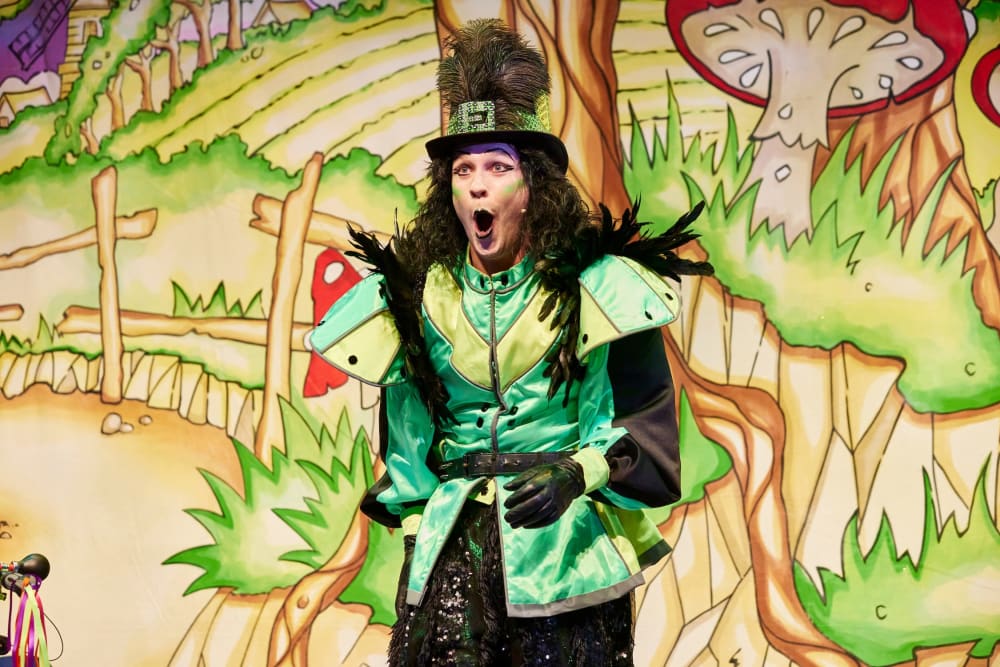 The highly successful production team of Plested, Brown and Wilsher return with their fifth pantomime, Jack and the Beanstalk, at the Corn Exchange and it's a giant, fun-filled family show that sparkles with seasonal cheer. The capacity audience were certainly in for a Christmas treat.
There were many new twists to this well-known story starting with the effervescent Fairy Fabulous, superbly played by William Beckerleg as a guitar-playing Elvis with a striking voice to match.
Matthew Cavendish as Fleshcreep makes a dramatic entrance on a scooter. He is instantly booed and is the perfect villain. He issues a fine to Fairy Fabulous since singing and dancing have been banned by the Giant who lives high in his castle in the clouds. All he wants peace and quiet.
This causes problems for Jill, the delightful Hannah Fairclough, who has formed a band with Hot Chick (Georgia McIntyre) and Spicy Chick (Emma Thornett). These hilarious 'chickens' are a great double act giving rise to many groan-making puns.
Sev Keoshgerian is impressive as Jack and sings with passion. He is really in love with Jill but both claim to be, "just friends".
His mother Dame Trott, at this performance played by Philip Pellew, quickly establishes a rapport with the audience. His ingenious costumes, designed by Mark Walters, become more outlandish at every appearance.
Times are hard and poor Daisy the cow has to be sold. Fleshcreep tricks Jack and he ends up with a bag of beans, much to his mother's angst. In the morning, they have grown into a huge beanstalk and our intrepid Jack decides to climb it to save Daisy and the villagers.
But the rescue party are thwarted by a locked castle gate and have to play a game of "guess that tune" on bones—you had to be there. But with the help of the audience, they manage to gain access where they meet the Giant who is well-gigantic and totally misunderstood. His problem is that he can't sing, but Jill feels sorry for him and teaches him.
There are loads of local references, topical comments about the cost of living crisis and inflation.
All the traditional elements of panto are there in abundance, including oodles of audience participation.
With excellent support from Robbie Noonan, Samantha Richard and Lucy Elizabeth Thorburn, slick choreography by Nicky Griffiths and music by Josh Cottell, this high-energy, spectacular panto should definitely be on your Christmas wish list.
Reviewer: Robin Strapp