Jack and the Beanstalk
Phil Willmott
Corn Exchange in association with Hiss and Boo
Corn Exchange Newbury
–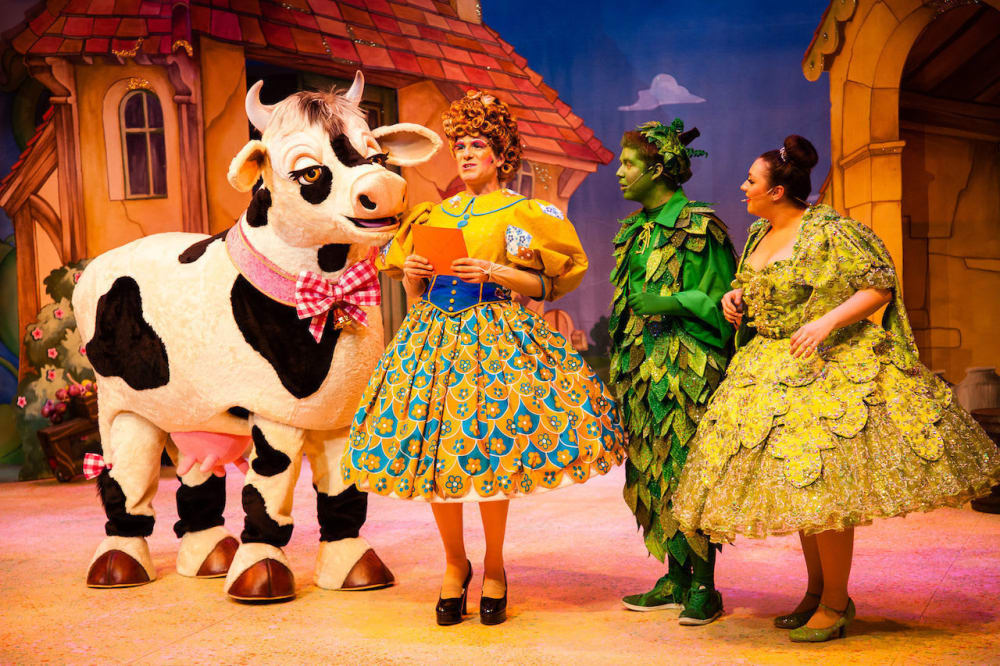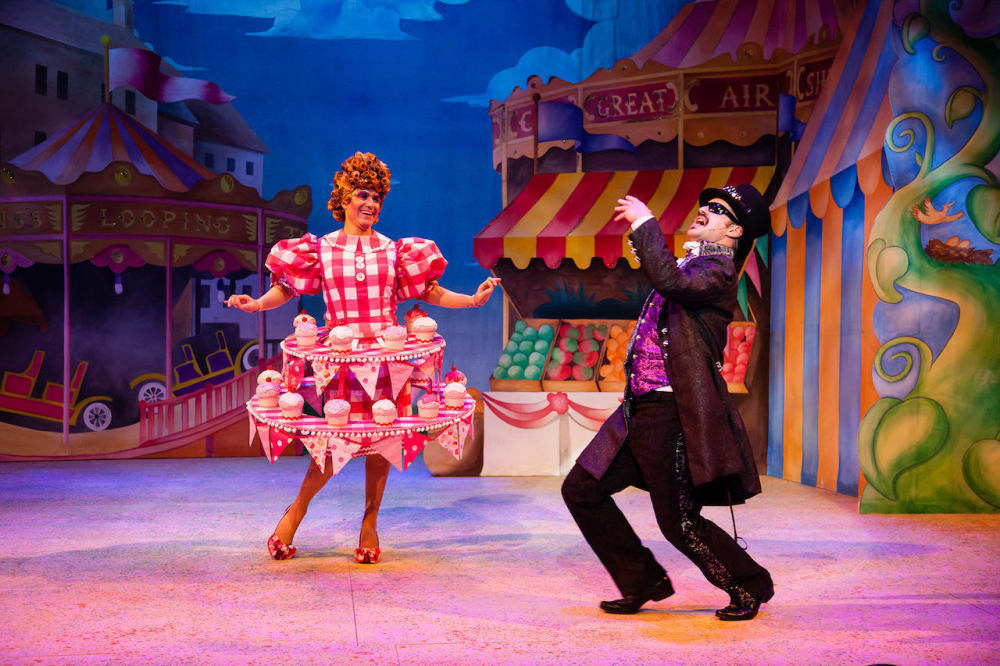 The Corn Exchange's pantomime Jack and the Beanstalk is "gigantic" fun; wait till you see the Giant, as well as giant beans thrown through the audience and not to forget the bean sauce. But you really will have to go to enjoy this experience—I'm not going to reveal any more of the superb surprises in store.
Once again, Phil Willmott has written and directed Newbury's special Christmas treat filled with all the traditional elements, beautiful costumes and set, a messy slosh scene, a spectacular beanstalk, a truly scary giant, dreadful jokes and oodles of audience participation. All great fun and the audience loved it.
Anthony Topham is splendid as the evil Squire Wrong 'Un who is determined to buy up all the property in Newbury Bottom and make life impossible for the villagers with his pay-day loan business "robin.com" proving to be very lucrative.
Mathew Grace returns for his fifth year but this time he's not playing his recurring role of Billy Bumpkin but a talking vegetable Beansprout. He's really grown into the part and won the affection of the audience. He comments, "No one seemed surprised to see a talking vegetable" to which the fairy replies, " You haven't been clubbing in Newbury." It was that sort of fun panto.
Also returning for his sixth year is Joseph Wicks, who makes his debut as the pantomime dame, Dame Trott, the deputy mayoress and principal of the dancing academy. His outrageous costumes become more outlandish at every entrance, especially when his cup cakes accidently start to fall off.
In the title role of Jack, "the professional giant tamer" Jack Beatson impressively plays the handsome hero. He has excellent stage presence and a very fine singing voice. He falls in love with Jill, superbly performed by Michelle Crook, and don't they make a lovely couple?
Looking after Jack is Candice the Cabbage Fairy, an "Eastender" with attitude, strongly played by Natalie Harman.
Not to forget the delightful Daisy the cow (Gary Mitchinson and Brad Sarginson) who everyone loved. There is excellent support from Charlotte Whitaker and a troupe of talented young dancers as the villagers, inventively choreographed by Holly Hughes.
There is a stirring first act finale that parodies "One More Day" from Les Miserables, truly excellent.
All too soon we were all joining in the song sheet competition and, of course, it all ends happily.
Phil Willmott and the whole cast should be pleased with this fun family panto, but perhaps a little tweaking with the sound balance will help us hear the words better in some of the songs. Tickets are selling fast, so don't miss out.
Reviewer: Robin Strapp