Jack and the Beanstalk
Devised by Michael Harrison with Dawn French, Julian Clary, Paul Zerdin and Rob Madge with original songs by Gary Hind
Crossroads Pantomime
London Palladium
–

Listing details and ticket info...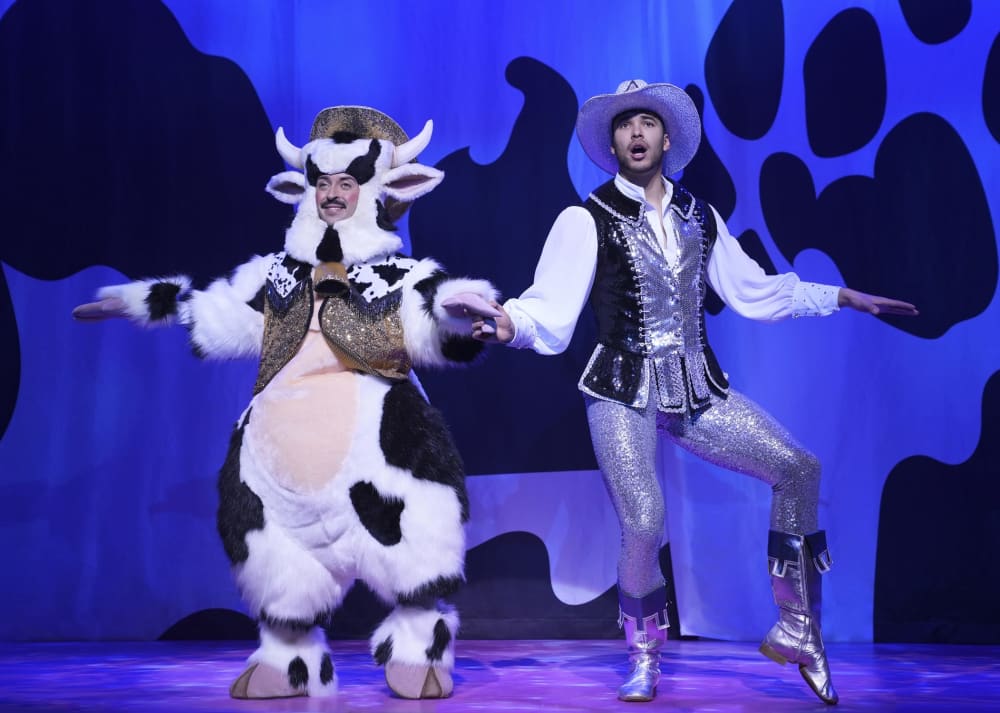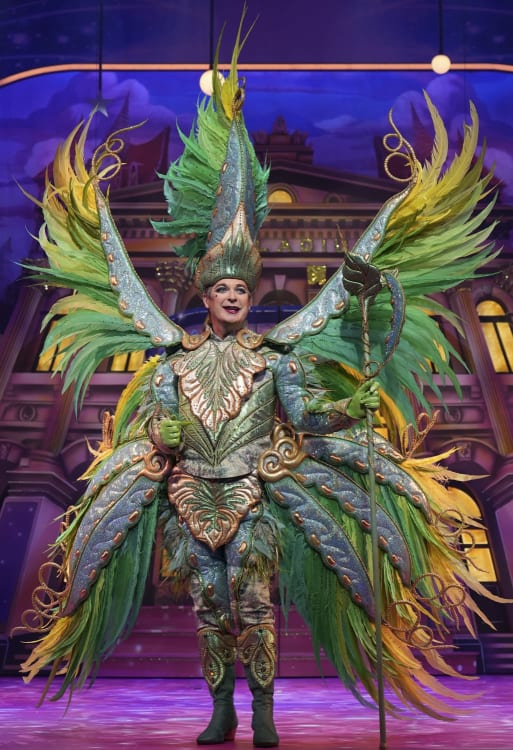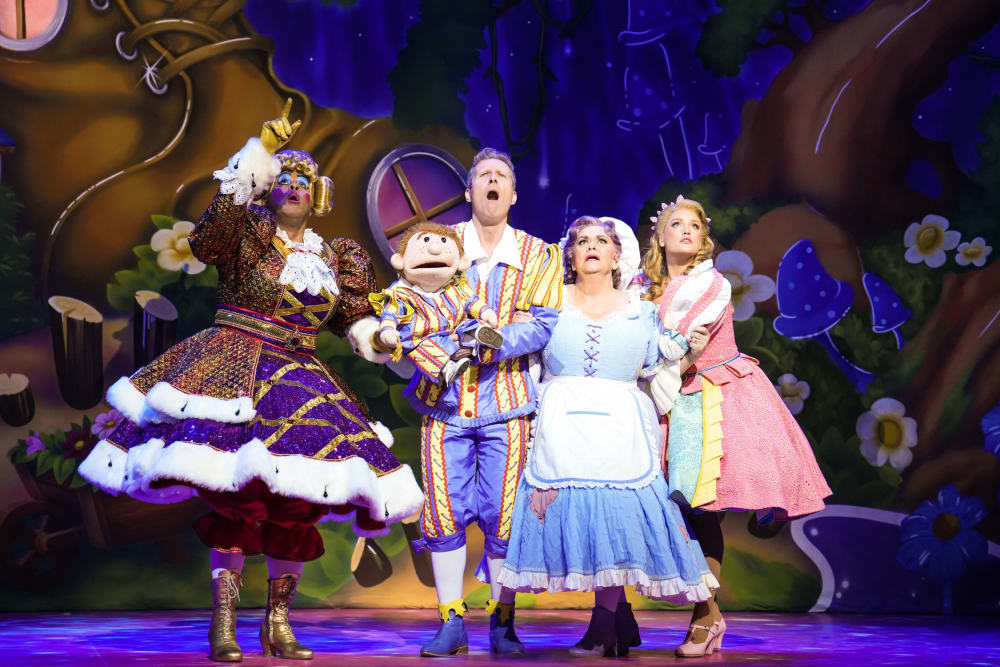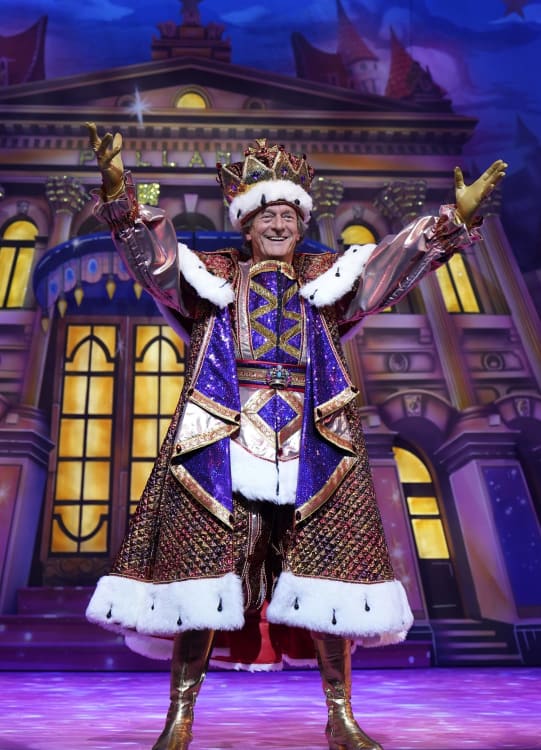 When Stephen Sondheim passed away just over a year ago, little did he know he'd penned the opening to the London Palladium's 2022 pantomime. The empowering tones of "Giants in the Sky" greet the audience at curtain-up in a show that celebrates the pure unadulterated joy of live performance.
Soon after Sondheim comes another titan of musical theatre as Andrew Lloyd Webber's "Any Dream Will Do" gets a panto makeover and Jack and the Beanstalk's narrative is firmly established. In Michael Harrison's latest iteration of the show, Jack and Jill both vow to defeat the Giant in a panto that also sees Pat the Cow dream of becoming a musical superstar.
Pantomime has always showcased the latest talent and, hot from their West End transfer of My Son's A Queer, Rob Madge looks as though they might just join the annual Palladium line-up. Madge's brummie cow almost knocks Paul Zerdin off the Comic top spot with their excellent comic timing, knowing looks to the audience and lovable characterisation. The bond between Pat and Jack is one of the strongest in the show, made clear by their barnstorming hoe-down performance of "Me and My Girl" (Cow) and "I Got Rhythm" in a Royal Variety Show organised by King Nigel and Queen Nigella to try and perk up Old Compton on the Turn's spirits.
Nigel Havers honours his now customary schtick of being the much put-upon cast member, but this time he really does have a part and is key to the narrative. Tricked by Alexandra Burke's wicked Mrs Blunderbore, it is James Bond wannabe King Nigel who gets kidnapped and requires rescuing from the City of Clouds and Stars.
Luckily for him, Louis Gaunt's heroic Jack and Natalie McQueen's 21st century Jill are up for the adventure, even if their battling of the impressive animatronic Giant Blunderbore is over in an instant and the rescue of King Nigel and Pat the Cow virtually absent from proceedings. Joining the lovers on their quest, Gary Wilmot's delectable Queen delights the audience with a new patter song, this time listing all the ailments the Queen has experienced recently with an added bit of audience participation that make it resemble a good old cockney knees-up.
But the show really belongs to Julian Clary and Dawn French as the Spirit of the Beans and Dame Trot. Resplendent in ever-changing bean costumes, from Mexican to Runner, French to Baked, Hugh Durrant's designs act as exquisite frames for Clary's masterclass in delivery. Whether parachuting back to Earth dressed as a cockerel, commanding a beanstalk to magnificently rise or merely reminding the Principal Boy how to stand, Clary commands and controls both audience and cast complete with customary and self-proclaimed 'tsunami of smut' that Palladium patrons lap up each night.
Swapping panto villainy for the Damehood, French relishes the role of Dame Trot and joins a long line of female Dames at the London Palladium including Dora Bryan and Mollie Sugden. Sugden's Mrs Slocombe lives on in French's purple-wigged Trot, who for some unknown plot point can't stop popping out babies. Playfully naughty, Trot's titters are frequently rooted in her self-chastisement, as well as an excellent sense of physicality and expression that makes French's Dame lovable, anarchic, mumsy and full of mayhem in equal measure.
New Palladium panto designer Mark Walters brings added dynamism to proceedings with electric arches of neon rainbow cursing through the stage and one of the most impressive beanstalks to have ever graced Pantoland. This pure spectacle, with plenty of silliness, is further enhanced by Ben Cracknell's eye-popping lighting design and Karen Bruce's energetic choreography, which never stops for breath and champions the world-class talent upon the West End stage as seen in the 16-strong ensemble.
A love letter to music hall, variety, musical theatre and pantomime, what better way to celebrate the power of entertainment on the most famous stage in the world?
Reviewer: Simon Sladen