Jack and the Beanstalk
Alan McHugh
Qdos Entertainment
New Wimbledon Theatre
–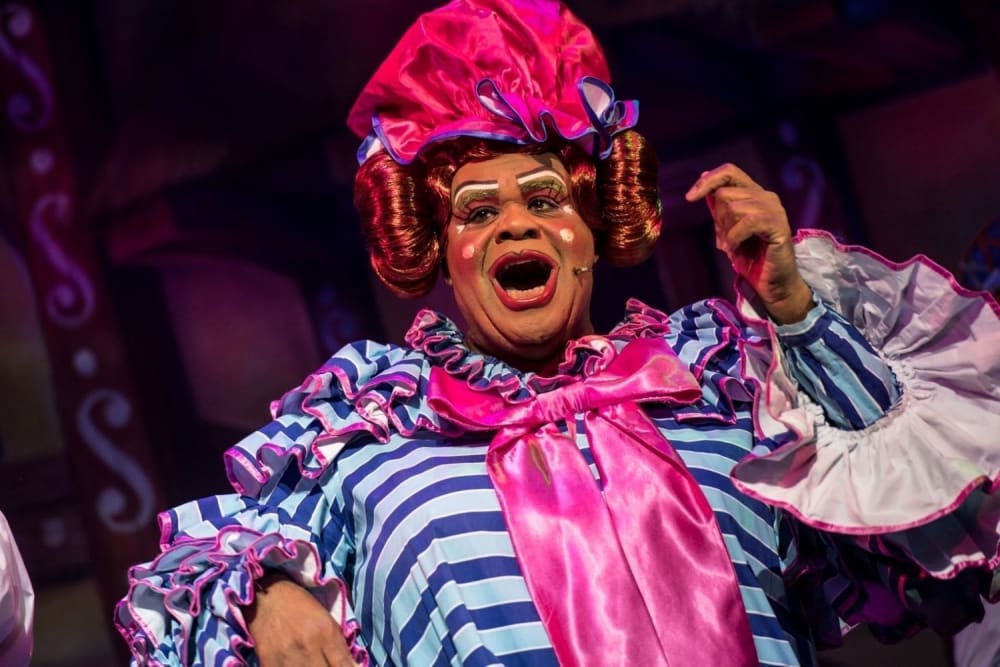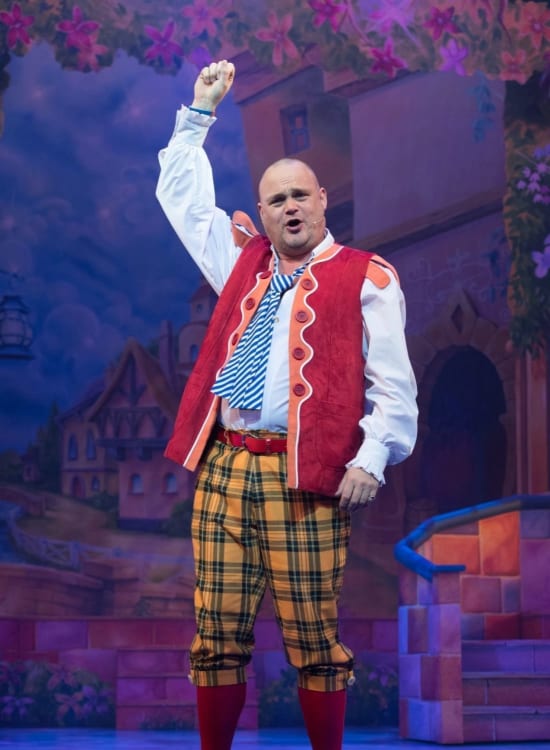 When the New Wimbledon Theatre announced that Clive Rowe was to star in their 2017 pantomime, shockwaves rippled through Pantoland. How could Hackney Empire regular Rowe desert his home turf for pastures new? How would commercial company Qdos Entertainment utilise his talent? Would his Dame translate?
In nabbing one of the country's greatest Dames, Qdos Entertainment celebrates Rowe in all his glory, firmly placing Dame Trot at the centre of proceedings and affording her musical numbers aplenty. Somewhat rare in a Qdos pantomime, Rowe's reign at Wimbledon may just herald a new age and indeed, if the Wimbledon audience are anything to go by, Rowe will be back next year.
As seen with Allan Stewart in Edinburgh, Chris Hayward in Newcastle and Alan McHugh in Aberdeen, Qdos understands the importance of the role and audience loyalty has led to these cross-dressed Damsels becoming stars of the show. Hackney's loss is Wimbledon's gain. Could Rowe become Wimbledon's very own May McFettridge, the heart of Belfast's pantomime for almost three decades?
Known to many as Duke in Tracey Beaker, Rowe has pulling power as not only a première Dame, but also a children's television celebrity. However, topping the bill this year is Al Murray, the Pub Landlord, as Idle Al, the character name alone suggesting a simple replication of his act inserted into the pantomime narrative.
Having trodden the boards as a stand-up comic, Murray knows how to work the audience and indeed manipulates them conductor-like in his opening spot which praises the virtue of family and friendship. A pun-run in act two around beer, wines and spirits in which he and Dame Trot glug on more than one bottle of tipple becomes rather questionable in a production that suffers greatly from a lack of narrative and far too many fillers, including Murray's superfluous scene with a plant in which he battles the 'audience member' whilst singing Queen's "Under Pressure".
The production is all rather run-of-the-mill and plods along with the ensemble smiling and twirling to Matt Flint's choreography. Musical numbers such as "Ain't No Mountain High Enough" and "Dancing in the Street" give the show a very particular soundtrack, but, whilst some of the songs' lyrics have been cleverly re-written, there is a severe lack of contemporary numbers in a production that references very little of the present day apart from the odd Trump and Theresa May joke.
This season, politics and royalty are hot topics in Pantoland with Prince Harry's engagement to Meghan Markle referenced in this production via a packet of Ginger Nuts. But in terms of the crown, this Jack and the Beanstalk dispenses with the King completely, reminding us of the now lost class narratives in an age of Markles and Middletons.
But if 2017 is to be remembered for anything, it is most likely to be that of the many sexual harassment cases which came to light in the latter part of the year, which makes watching musical number "Super Kissing is my Game" to Stevie Wonder's "Superstitious" incredibly uncomfortable whilst Fleshcreep undulates, pushes himself against Princess Apricot and forces her closer.
Part of pantomime's survival is down to its willingness to evolve. Spectacle in the form of flying helicopters and 3D sequences with vomiting maggots and sneezing Giants are a huge hit with the crowd, but in order to survive, pantomime must also reflect tastes, trends and traditions whilst not sacrificing too much of the story or preserving bygone eras and attitudes. This blend is hard to achieve, but sadly the recipe for New Wimbledon Theatre's pantomime needs a little more work before it can be enjoyed by all as a festive treat.
Reviewer: Simon Sladen