Jack and the Beanstalk
Paul Hendy
Sheffield Theatres and Evolution Pantomimes
Sheffield Lyceum
–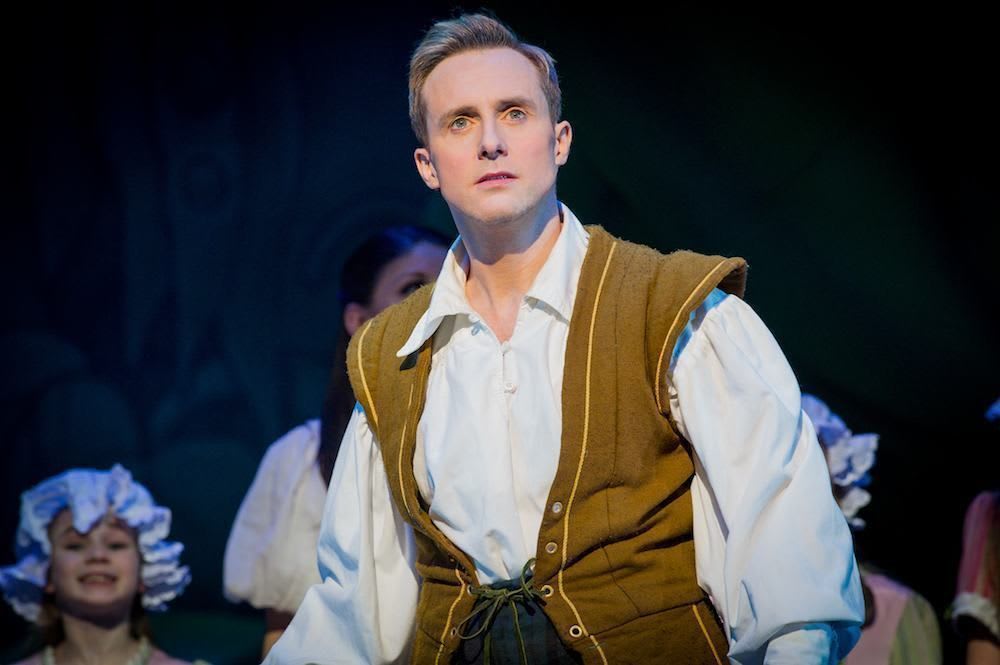 Evolution Productions, currently presenting Jack and the Beanstalk in Sheffield, is a family production company, with Paul Hendy as writer / director / producer, wife Emily Wood as producer, Dorcas Wood as associate producer and Helga Wood as designer. This Christmas the company is producing another eight pantomimes, mainly in southern England, in addition to the production at the Lyceum.
Jack and the Beanstalk has all the ingredients of a traditional English pantomime: a witty script with local references and jokes for all ages and tastes; splendid sets and endless costumes changes; a cast of accomplished singers and dancers, many known to the audience through TV; set pieces like the sticky ice cream slapstick sequence, the Lyceum's 'ghost' bench, 'they're behind you' (a familiar favourite) and much more to delight adults and children alike. A special mention for Molly the Cow, a really solid but convincingly mobile pantomime 'horse'.
Damian Williams is on splendid form as a burly, booming Dame Trot, mother of Jack, in and out of costumes in the shake of a cow's tail. As well as having a voice that can rattle doors in the upper circle, Williams has a repertoire of facial expressions, a raised eyebrow here, an imperious glance there, that gees up or witheringly suppresses audience response. He establishes a lascivious relationship with a hapless victim in kissing distance in the front row of the stalls, an ongoing source of amusement.
One interesting feature of audience reaction is when the children are invited to whisper a response, which would normally have been bellowed out, in order not to wake the giant. Extraordinary to hear the sound made by a theatre-ful of whispering children.
Sarah Earnshaw, a delightful Vegetable Fairy, performs with enormous vitality and a smile that lights up the whole house. She has wonderful rapport with the children, who will do anything for her. She is also an experienced and accomplished performer in musical theatre with a magnificent singing voice.
The central romantic couple, Ian 'H' Watkins as Jack and Madeleine Leslay as Princess Tamara look good, have powerful singing voices and are accomplished dancers. In fact, the dancing from the whole company, including the young girls in the Junior Ensemble, is hugely energetic and excellently choreographed by Aaron Francis.
Strong performances by Andrew Fettes as the pantomime villain, an evil henchman of the Giant, and Pete Dunwell as the money grabbing King Eric; dynamic, smiling support from the song and dance troupe of villagers.
There art three major and impressively elaborate sets, the Village, Cloud Land and The Giant's Kitchen, as well as several supplementary front of tab scenes. The Beanstalk (inspired by bouncy castles) rises and falls impressively. The crucial, much anticipated moment, the appearance of the Giant, is impressively heralded by a burst of cacophonous music from "The Rite of Spring" and does not disappoint. I am still intrigued by how such a huge giant is able to move about the stage. It must be magic.
There is a fantastic array of costumes. In every new entrance, Damian Williams wears a different, garishly coloured, outrageous outfit (one just enough to cover his modesty); but the whole company, including the little girls, have frequent costume changes. The production is visually sumptuous, up to the final wedding scene, when everyone appears in gold outfits just for the curtain call.
This is a loud, fast-moving Christmas entertainment, with plenty to entrance the ear and eye and tickle the ribs.
Reviewer: Velda Harris