Jack and the Beanstalk
Tom Whalley
NS Pantomimes Ltd
The Pantodrome, Times Square, Newcastle
–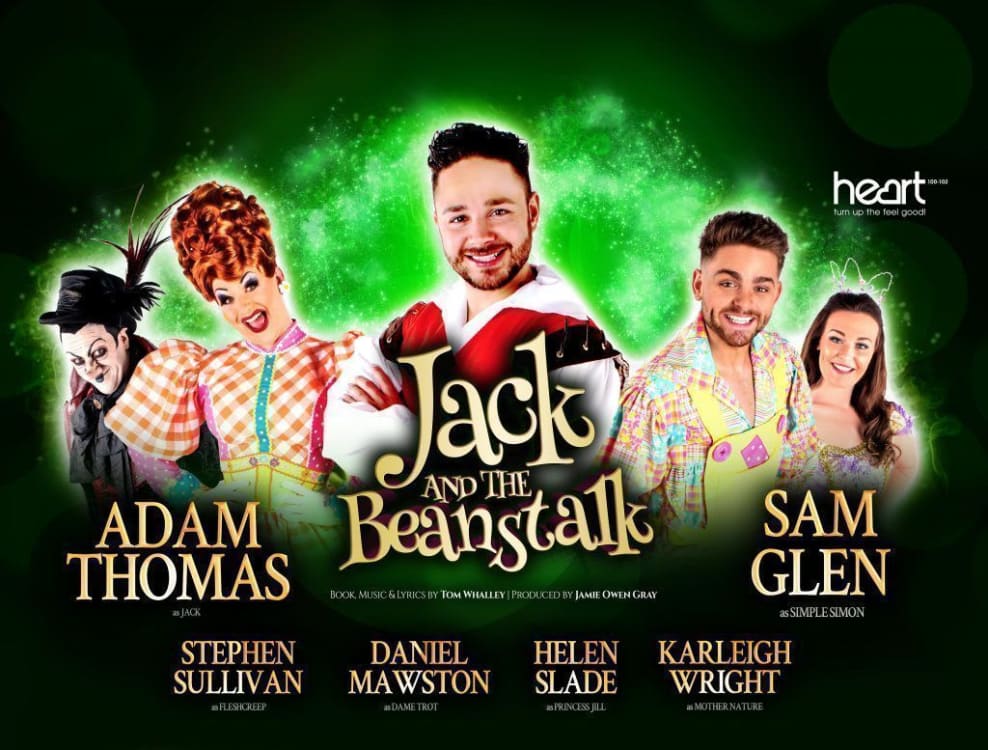 It's like a dream come true. The stuff of fantasy and romance. A young dancer plucked from the chorus line to replace the star of the show. Only in the movies…
But it happened this week in Newcastle to dancer Karleigh Wright.
The first rule of panto, of course, is "If something can go wrong, it will." The second rule?—"Deal with it!" And Ms Wright did. She got the part on Wednesday morning and went on on Wednesday night. By Thursday, the press night, she still had the book in her hand but it seemed not to be needed most of the time and I suspect that, by this evening (Friday), she'll be off book completely.
And what an engaging Mother Nature she makes—broad Geordie, feisty, bags of energy, and well able to stand up to the evil Fleshcreep, the Giant's henchman, played by Stephen Sullivan, a seasoned pantomime performer, who looks like a cross between the Child Catcher and Boy George and positively revels in being nasty.
Actually, I mean the character not Stephen Sullivan. At least, I think he was acting...
The show has been beset with problems—it lost the first two performances because of tech troubles and then lost its star name—but you wouldn't have thought so. It was perfectly obvious that the cast were determined to make a success of the show and really enjoy themselves at the same time.
Of course things went wrong (see the first rule of panto above) but they did what every experienced panto performer does, make a joke of it! And making a joke of it with great aplomb and obvious enjoyment were Daniel Mawston as Dame Patsy Trot and Sam Glen as Simple Simon, her son. In most pantos, this classic combination of Dame and Comic (usually a bit of a daft lad) hold the whole thing together, and so it was here. From the very start both established a great relationship with the audience, Glen in particular being clearly every audience member's best mate.
Adam Thomas is Jack, making his panto debut having spent all of his career in TV (including last year's I'm a Celebrity…) (but we'll not hold that against him) (will we?) and at times he seemed a little bemused by the mayhem around him, but he was, in the words of the favourite Christmas song, "laughing all the way" and we enjoyed his obvious enjoyment. Much is made of the fact that he is "not from around here", not a Geordie, but aren't his mother and brother both Geordies…?
(Come on, Lathan, this is panto. You can't expect it to make sense!)
Jack's love interest is Princess Jill (Helen Slade) who is very much the traditional Principal Girl, required to do little more than look beautiful and sing beautifully—which she very definitely does.
Completing the cast are Daniel Hope as the King, played here like Shrek's tiny Lord Farquaad, requiring the actor to spend the whole show on his knees, and Nicky Flynn who spends the whole show inside the skin of Daisy the Cow.
There are (now) five chorus members, three girls and two boys, and six members of the Juvenile Ensemble—which diehard traditionalists like me persist in calling The Babes, thus showing our great age. They were great—they sing and dance very well—but I felt they were underused. There were fewer routines than usual, but then there were fewer songs than in most modern pantos.
Tom Whalley's script is excellent, full of humour aimed at all sections of the audience, including some real filth that flies straight over the heads of the kids but has the adults in stitches. Brilliant! And there's a lovely send-up of the take-off scene which I will not reveal (for obvious reasons) but it is hilarious.
And why is it that Mother Nature is the one who brings on a package which she leaves at the side of the stage, asking us to call for her if someone tries to touch it? It's usually the Comic or the Dame that does that. Again, I'll not say, obviously, but it creates one of the best sight gags of the evening.
There are plenty of local references, including the obligatory casting of people from neighbouring Sunderland as the villains. The Giant is a Mackem.
I wonder. Should I mention that on the cloth for the "Road to the Bigg Market" scene someone misspelt Scotswood Road? Of course I should. I'm a Mackem!
The audience might not have got Denise Welch but they did get an evening of fun and laughter which everyone clearly enjoyed to the full.
Reviewer: Peter Lathan