Jack and the Beanstalk
Steven Blakeley
Theatre Royal
Theatre Royal Windsor
–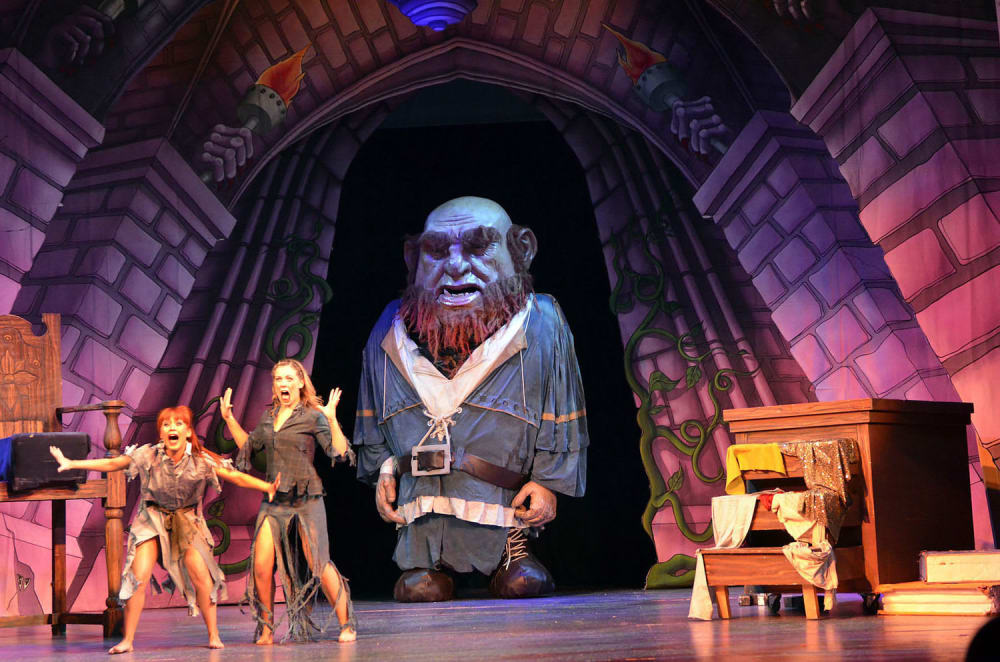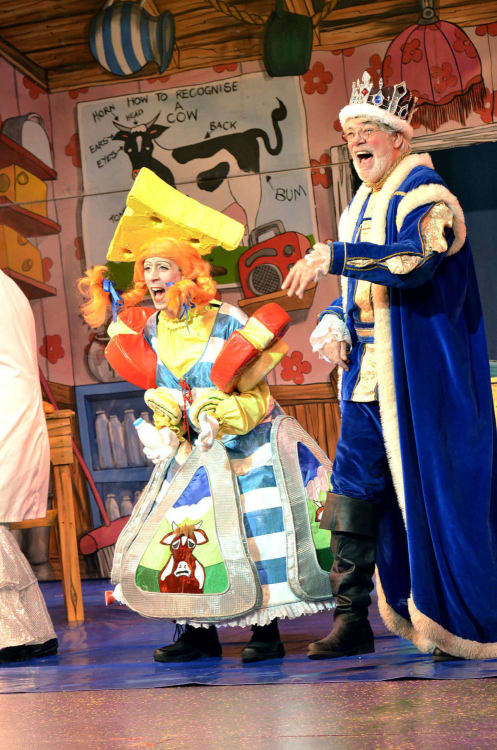 The Theatre Royal Windsor has created a giant of a pantomime in this year's Jack and the Beanstalk and it is "full of beans" with all the right ingredients to get the festive season off to a joyful start. It's written and directed by Stephen Blakely who also plays Dame Nellie Trott, wearing some outrageous funny costumes—oh yes he is.
It's a star-filled show with Mathew Kelly superbly playing the bumbling King Walter of Windsoria—who manages to include most of the television game shows he has presented in his dialogue—ably assisted by Lord Neville Chamberlain (Nathan Vaughan Harris) who always has the Wet Wipes and any other aids to help the King.
Britt Ekland is the evil Jemima Fleshcreep, "bold as brass" with plenty of references to her James Bond role in The Man with the Golden Gun. Her pet Chihuahua, Tequila, is a mini-star as Rocky, making his ninth appearance in panto—quite a record.
The delightful Anita Harris is the good Fairy Dewdrop who can still sing a great song particularly, "Nothing's Going to Harm You."
Kevin Cruise is outstanding as Simon Trott who has a wonderful rapport with the audience in this his third appearance at the Theatre Royal and the audience absolutely loved him.
Providing the romance element are Olivia Scott-Taylor as Princess Jilliana and Anthony Kavana as Jack Trott.
There is much for all the family in this fun-filled panto: a hilarious, sloshy, slapstick routine in Dame Trott's dairy, a delightful Daisy, the cow, lots of local jokes, with particular reference to Eton and Slough.
The Dame's funny 21-piece dinner service sketch is rather predictable and the most energetic rendition of "The Twelve Days of Christmas", which has apparently become an annual institution, is really enjoyable with the audience joining in.
Much to the delight of the youngsters in the audience, Postman Pat and Jess the Cat make a special appearance and are loved by all.
There is loads of audience participation including a children's marching band with three youngsters from the audience providing the entertainment.
The enthusiastic ensemble are a joy to watch with some fine dances (choreography by Dede McGarrity) together with charming younger performers who act with zest.
The magic beanstalk is impressive and the giant is truly "Ginormous" and scary, but there is nothing to really worry about and it all ends happily.
The musicians, under the direction of Tom Turner, play a lively mix of pop songs that unfortunately at times drown out the singing, but I'm sure that the sound balance will be fixed as the run continues.
With pyrotechnics, colourful costumes and scenery, this is a traditional panto that was enjoyed by all.
Reviewer: Robin Strapp