Jack & The Beanstalk The Rock 'n' Roll Panto
Peter Rowe
New Wolsey Theatre
New Wolsey Theatre, Ipswich
–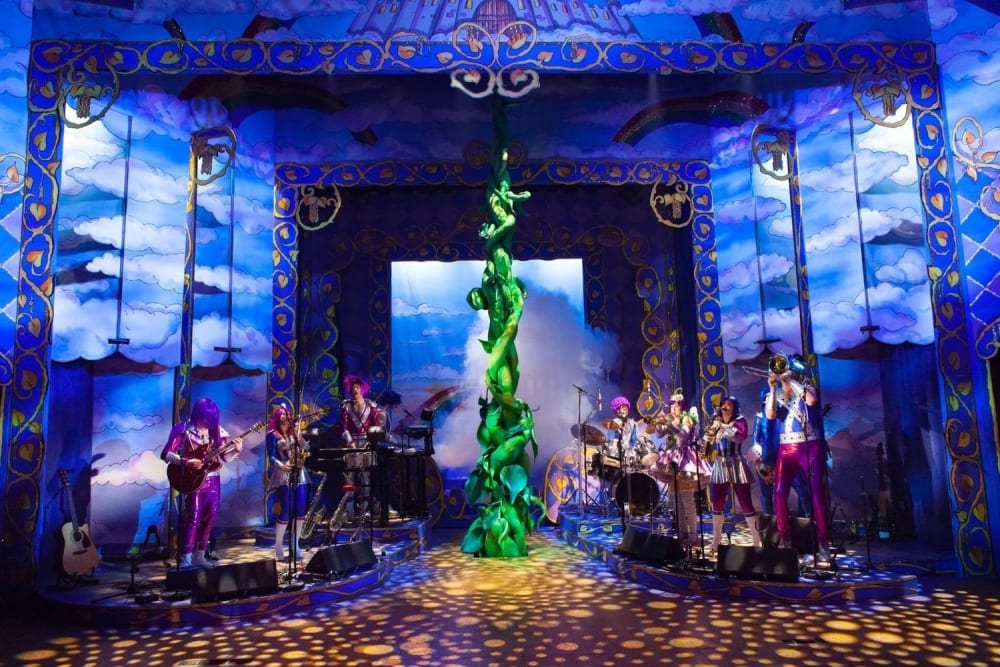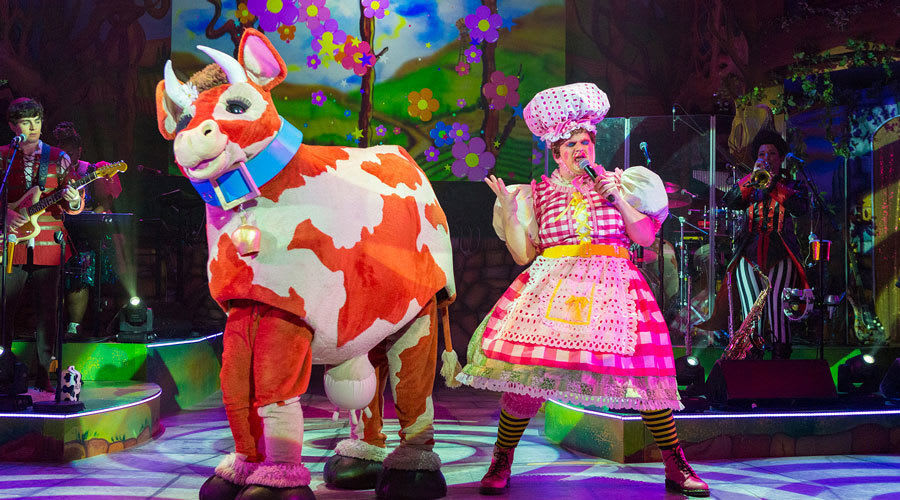 So the New Wolsey panto is back with a bang. With the usual mix of actor musicians, slapstick humour plus incredible puppets, this is a night of rollicking entertainment that's a great antidote to the continuing pressures of COVID and the pandemic.
This year, writer Peter Rowe has given the story of Jack & The Beanstalk a rock 'n' roll makeover, but most of the ingredients are familiar to those who are regulars to the New Wolsey's seasonal offering.
And this year even more so as the cast of actors are almost identical to last year and quite a lot of the script seems recycled too! But none of that mattered to the enthusiastic audience at press night who lapped up all the silliness mixed in with a lot of amazing talent from a group of actors who are called on to constantly switch character and costumes while playing a number of instruments and singing their hearts out.
New Wolsey regular Steve Simmonds has the central role as Dame Dolly Durdan and throws himself (literally at times) into it with wild enthusiasm. There is no doubt he has comic bones and grows in confidence with each new role he takes on. James Haggie also reprises his role as beat upon sidekick Billy, the foil to everyone's jokes. Neil Urquhart is a very confident Jack and Daniella Piper a good match as his Jill.
Natasha Magigi plays both Fairy Aubergine and a very amusing Giant's Wife, and Daniel Carter-Hope, another regular, makes the most of Squire Snuffbox.
It's all directed by Kate Golledge with a tight rein that belies the exuberance and madcap mayhem created on stage.
Introduced last year as a device to improve viewing for a live-stream audience, quite a lot of the drama takes place on screen as pre-recorded scenes to fill in the plot and add to the action. It also means that, in these uncertain times, the New Wolsey can manage with a smaller cast. But it also means we can take flights of fancy to alternative locations without the need for too much set changing on stage. Video designers Peter Hazelwood and Jake Barinov work wonders with the wizardry.
For me, there are too many fart jokes and a lot of the humour is quite adult, but the musical numbers are excellent including "Take on Me", "I Think I Want to Marry You", "Green Machine", "Hit the Road Jack", "Jumping Jack Flash" and "We Will Rock You"—which is the Giant's theme and heralds the entry of the most amazing of puppets.
In fact, the puppetry in this show is a major highlight, with not only a superb Giant but a great Pantomime Cow and a number of singing farmyard animals.
This is a feelgood show that is thoroughly entertaining and fast-moving, if a bit long at 2½ hours. But if you want a bit of escapism with some fabulous songs and amazing puppetry, you can't go far wrong if you get along to The New Wolsey's panto.
Reviewer: Suzanne Hawkes