Jack and the Beanstalk
Michael Gattrell
Michael Gattrell for Horsham District Council
The Capitol, Horsham
(2011)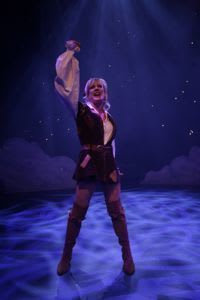 Poor old Merrydale. With Giant Blunderbore making village life a misery and Dame Trot's rent in arrears, perhaps a change of name is necessary to communicate the area's recent misfortune? Even the King is worried about the future, but luckily for him and his subjects, Fairy Twinkle is on hand to ensure a Happy Ending is had by all.
Returning for her second Capitol pantomime, star of CBeebies Sarah Jane Honeywell's Fairy Twinkle is a bundle of cheeky energy. Armed with plenty of fairy dust and enthusiasm, she narrates the story whilst keeping evil at bay.
The Horsham venue's tradition of a female Principal Boy is upheld by Amanda Sim in the title role. Those that bemoan the practice of this 19th Century tradition should visit the Capitol's production to see that when done properly, a female Principal Boy can be most believable. Sim convinces the audience that she is a boy, yet retains a sense of femininity enforced by her flowing locks and the obligatory slapping of her thigh.
Cross-dressing is a staple pantomime tradition and the Capitol's Dame Trot, played by Michael Neilson, is a cross between Eric Morecambe and Tommy Cooper in a dress. Neilson's Dame works the audience and makes plenty of asides, but a lack of dancers in her opening number 'Hey Look Me Over' leaves it lagging somewhat.
Pantomime is the realm of Dames and Comics; indeed it is these two characters that define the genre and make it so unique. They communicate with the audience, break the fourth wall and are given full licence to 'play'. In the role of Silly Billy, Joseph Pitcher gives a sterling performance, but seems reluctant to go off script or to step out of character as is required in the role. His Silly Billy remains happy even in times of peril and rather than live the character, scene or narrative episode, he needs to live the moment and make the most of it.
Performers specialising in pantomime skin roles may be a thing of the past, but the Capitol has managed to secure the services of some incredibly talented artistes who bring Buttercup and Giant Blunderbore to life with well timed manipulation of the eyes and mouth paired with strong direction from Michael Gattrell.
The ensemble dance their routines with passion and flare accompanied by live music from John Cornford, Jamie Moon and Dan Humphreys in the band. Danielle Drayton's choreography for the Village People's 'In the Navy' re-worked as 'In the Dairy' is particularly effective although it is a shame that this Jack and the Beanstalk lacks any of the past year's chart hits. Some musical numbers go on for a little too long in Act One, including a highly repetitive 'Wake Up Boo', whilst in Act Two they appear far too frequently and are used to fill the second half's weak plot.
The UV sequence to end Act One complete with growing beanstalk, dancing elves, gyrating spiders and wiggling birds is great fun, as is Dame Trot and King Michael's rendition of 'You're The One That I Want'. Act Two's Ghost Gag feels a little rushed to begin with and without sounding too much like a member of the PC brigade, stabbing the Giant with a knife seems highly inappropriate in this day and age.
With a snarling and gravelly voiced Villain in the form of Connor Byrne and a sweet Principal Girl played by Hannah Robertson, Jack and the Beanstalk is good old fashioned fun for all the family.
Jack and the Beanstalk plays at The Capitol, Horsham until 2nd January 2012.
Reviewer: Simon Sladen