Jack and the Beanstalk
Paul Hendy
Yvonne Arnaud Theatre, Guildford
(2007)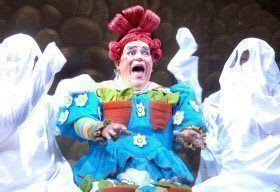 I cannot help saying this every year, but Guildford pantomime is just like one big (noisy) happy family party. People come back year after year, many of the cast and crew included. Third year students from the Guildford School of Acting provide the ensemble and the juveniles are from the GSA Musical Theatre Saturday School – a real home-grown pantomime and probably more fun than any other in the country, even including the very expensive spectacular productions. Not that this is run on a shoe-string. Sets and costumes by Helga Wood (again) are many, varied, exquisite, outrageous or exotic, suiting the characters. Choreographer Gerry Tebbutt is back, Royce Mills (a Rolls Royce of Dames) is here for the sixth consecutive time, and Princess Tamara (no imagination needed to expect some jokes from that mispronounced name) is a fresh-faced young lovely Harriet Shore who graduated from the GSA only two years ago, was Snow White last year, and has been having great success in the commercial world, but is delighted to be performing in Guildford once again – it must almost be like coming home.
Paul Hendy has written and produced the show as usual, but this year is not performing – a chance to be home for Christmas with his family – but can he resist being back on stage again next year?
Last year, in her first pantomime, Stephanie Beacham was the wicked queen, with some spectacularly beautiful outfits and long spiky fingernails, and she has them again this year as the wicked Venus Flytrap, snarling at the (very vociferous) audience: "Dare to hiss and boo – I'll steal all your flashy wands and snap them in two", which of course caused her detractors to hiss and to boo all the louder, and this wasn't just the children. In fact most of the front row seemed to be composed of adults (also with flashy wands and headbands) and not a child between them. She recently competed in Strictly Come Dancing and had a dance number here too, whereupon the front row held up their 'score cards' – all with a ten. They had come prepared!
Last year's pantomime had seven enchanting real dwarves – this year it is a real giant – well, almost real - and very impressive as he lumbers in, about ten feet high, with enormous hands and feet and a deep booming voice supplied by Rob Wells. This is a giant with great taste, and not only for children. His castle walls are adorned with the Mona Lisa, The Laughing Cavalier, and at least two Van Goghs and a Constable. It is here, in the grim castle that Dame Trot, the King and Billy Trott decide to sing to keep the ghosts away.
"Do you think it will work?"
"It has done for the last forty three years."
And then they had to catch up with the audience who were ahead of them with not only the song but also all the accompanying banter.
Of course there is the slapstick scene with Jack and brother Billy doing everything wrong and ending up on a slippery cream-covered floor – Jack enveloped in cream from head to foot, and the essential "Oh no it isn't" .and "It's behind you" nearly raised the roof. A new invention was the giant's giant peas distributed among the audience to throw at the stage on cue and defeat the 'baddies'. The children just loved that one!
Topical references were slipped in. "What shall we do for money?" "I could disappear for five years and claim the insurance," and, trapped in the giant's castle, "I'm a celebrity – get me out of here!"
A benevolently beaming Liza Goddard is vegetable Fairy Sugar Snap (Organic). Jack is Richard Meek, fresh from playing a very 'nerdy' Brad in the Rocky Horror Show, and here every young girl's dream hero, and brother Billy is the versatile, multi-talented Peter Duncan, of Blue Peter fame among many other accomplishments.
Eminent director Christopher Luscombe (loved the Dream in Regent's Park, Chris) keeps everything in order – more or less – and he too is returning, after twenty one years, when he made his acting debut here as Jack.
Everyone was there to enjoy themselves, and enjoy themselves they did – at full volume! A truly great Christmas treat, living up to expectations every year.
Running until 6th January
Reviewer: Sheila Connor