Jack and the Beanstalk
Written & directed by Brendan Healy
Newcastle Pantomime Company
Tyne Theatre & Opera House, Newcastle
(2010)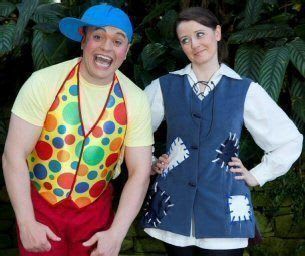 The North East of England is proving to be a veritable smorgasbord of festive fun with a diverse range of productions entertaining audiences over the Christmas period. There's a show-stopping stage adaptation of a well-loved Paramount picture at Sunderland Empire, a re-telling of a children's literary classic at Northern Stage and a sensational selection of traditional, good old-fashioned pantomimes at The Customs House, Durham Gala and The Tyne Theatre & Opera House.
The latter sees the stalwarts of Newcastle Pantomime Company make a welcome return with their 'giant' production of Jack and the Beanstalk. Maxie Peters and Billy Mitchell, as Worzel and Scrumpy, a couple of comedic farmhands, are joined by fellow regulars Kevin O'Keefe (Dame Trott) Catherine MacCabe (Jack), Charlie Richmond (Silly Billy), Paul O'Shea (Fleshcreep) and Kim Atkinson (Mrs Blunderbore), whilst Samantha Phyllis Morris (Princess) makes her debut with the troupe.
Although the story is set in the village of Muchpiddlingshire, this is yet another pantomime that is rooted firmly in the locale. Regional references and Geordie slang abound, with people 'gannin' geet radgie' left, right and centre (that's 'going rather berserk' for those of you who are not fluent in our local dialect!).
As with all traditional pantomimes, there is a certain amount of thigh-slapping, audience participation, sing-alongs, comedy, romance, danger and – ultimately - good triumphing over evil. Yet it is the flair and enthusiasm with which it is all executed that makes this production what it is. There is not one weak link amongst the principal cast and they are supported by an energetic chorus of five pretty girls to boot.
The scenery is beautifully painted and vibrantly colourful and I would have credited the designer with a mention had their name been included in the programme. Emily Swan's choreography is effective without being overly-complicated and Peter Millican's lighting design makes the stage look like pages from a book of fairy tales. Brendan Healy's direction ensures that the pace and momentum is maintained throughout - indeed there are absolutely no lulls in this production.
Perhaps, though, most enjoyment is derived from the fact that the show is full of 'all the super stuff that proper panto's are made of' (as stated in the programme notes) and performed by a cast who are not only able to connect with the youngsters in the audience, but who also understand the importance of doing just that.
Runs until Sunday 2 January 2011
Reviewer: Steve Burbridge